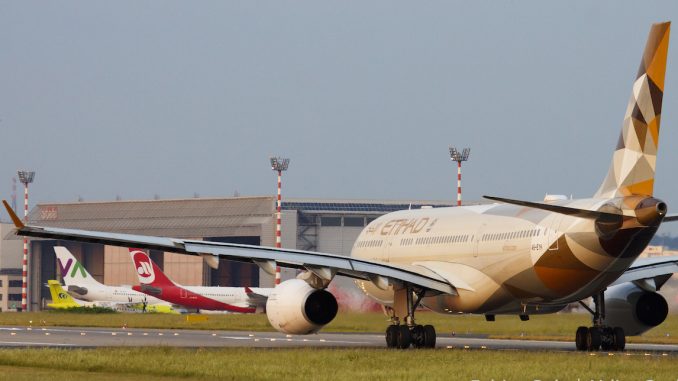 Abu Dhabi-based Etihad Airways has announced that it is planning to cut 50 pilot jobs by the end of January, according to a private internal memo released to employees on Thursday.
The decision comes after the carrier incurred a significant loss this past year due to a rapid expansion strategy aimed at competing with Gulf rivals Emirates and Qatar Airways.
While Etihad has not released its financial results for 2018, the carrier has been racking up losses over the past two years, totaling around $3.5 billion, and expects the losses to continue well into 2019.
It is reported that Etihad currently employs 2,065 pilots but has a surplus of around 160, of which 50 will be laid off.
In 2018, Etihad also encouraged its pilots to take unpaid leave for periods ranging from one week to 18 months. This happened as the carrier was reviewing options to retire some of its fleet.
Significant efforts have been taken by the carrier to reduce flight operations as a result of the continuous losses.
Just recently, the carrier cancelled the purchase of 10 Airbus A320neo aircraft and in 2016, the carrier announced a restructuring plan which saw the appointment of a new CEO and the reorganization of departments such as operations, maintenance, and finance.
The carrier has also been focused on reorganizing its flight system, focusing on more point-to-point routes as it cancels routes that are not sustainable for the airline. Through this reorganization, Etihad hopes to cut operating costs by seven to ten percent.
Etihad, however, is not the only airline in the region to feel the pinch of rising fuel costs, rapid expansion, and growing competition. In 2017, Dubai-based Emirates announced that it had plans to scale back cabin crew and employees in administration and IT departments.
Etihad currently has an agreement with rival carrier Emirates to absorb some of the surplus pilots on a temporary basis for two years, through a secondment program. It is unknown how many pilots decided to take the offer, but it is reportedly small.
An "AvGeek" for most of his life, Akhil has always been drawn to aviation. If there is an opportunity to read about an airline, fly on a new airplane, or talk to anyone about aviation, he is on it. Akhil has been on over 20 different kinds of aircraft, his favorite being the MD-80. Additionally, he has visited 5 continents and plans to knock out the remaining two (Africa and Antarctica) soon. Based in Dallas, Akhil graduated from Texas A&M University with a degree in Management Information Systems and currently works in consulting. His dream is to become an airline executive.
Latest posts by Akhil Dewan (see all)