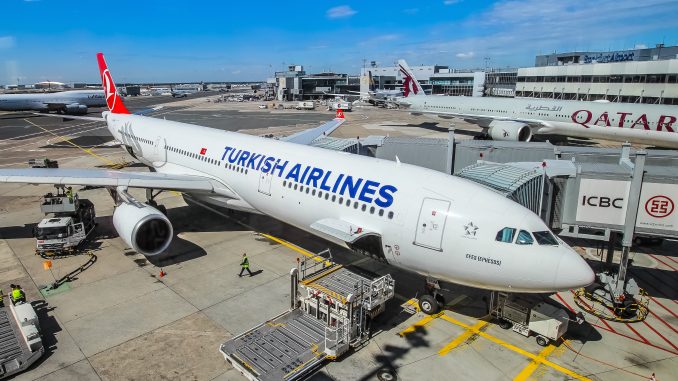 Istanbul's new mega airport officially opened on October 29 of last year after only four years of planning and construction. Turkey's largest airline was supposed to become Turkey's largest airport's anchor tenant on Dec. 1, 2018. Kadri Samsunlu, CEO of ISL airport operator IGA, issued a statement in December saying that "our airport will be operating at full capacity in a few days from now" adding that "all preparations were complete".
The mega airport can accommodate approximately 90 million passengers per year according to IGA. It is considered a prestige project for Turkish president Recep Tayyip Erdogan. Once additional terminals are complete, the airport could even accommodate up to 200 million passengers a year. This would make ISL the world's largest airport.
Yet, Turkish Airlines is still far from having completed its move from Istanbul Atatürk Airport (IST) to Istanbul Airport (ISL) to make the larger ISL airport its main hub. The airline merely operates 32 flights per day from ISL today, compared to 460 daily flights at IST, according to airliners.de. The flights to and from ISL are also only point-to-point operations that do not offer connections to other Turkish Airlines or Star Alliance flights. Istanbul's third airport, Sabiha Gökçen Airport (SAW) will continue to operate as is.
Turkish media is now reporting that IGA is aiming for full capacity operations of ISL by March 2019, by which time the overrun Atatürk Airport would be set to close. However, observers are expressing doubts about this timeline as well.
The consultancy Aviation Management considers a move by March "very ambitious, given that it would leave less than a month to transition flight plans, find alignment with air traffic controls and organize all the logistics of a move."
Turkish Airlines appears to be getting more cautious about the timeline as well. A spokesperson for the airline told airliners.de that contrary to earlier goals, moving the airline's entire operations to ISL is no longer planned.
Adrian joined AirlineGeeks as a writer in 2017. He had always wanted to become a pilot and while he chose a different career path for now, his interest in aviation continues to grow every day. Adrian was fortunate to travel extensively for business in the past five years. As a result, he focuses his research and writing on passenger services and experiences on a variety of airlines. His favorite aircraft include the Airbus A350, A380, and the Embraer passenger jets.
Latest posts by Adrian Vannahme (see all)