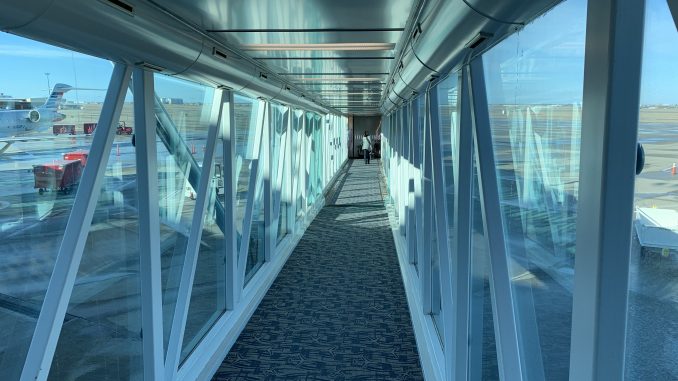 With new construction projects revitalizing airports across the United States, the call for more modernizations or "European-style" structures has resulted in more glass and steel replacing the concrete and brick-heavy terminals of the past. However, some airports across the country have extended the glass structure outside of the building itself and added new glass jet bridges to their airfields, something that is rapidly gaining popularity in the United States' smaller airfields.
A Short History on Glass Jet Bridges
For some time, obtaining glass jet bridges was a major issue for airports as the glass structure violated fire safety laws. According to the National Fire Protection Association Fire Safety Code 415, the use of translucent windows or walls in airport bridges was not encouraged out of airport operational windows as the material could cause pedestrian congestion as people stop to look at any fire or cause people to be exposed to seeing traumatic scenes when trying to flee to safety.
However, a push in 2007 began to renew interest in allowing translucent jet bridges in U.S. airports as glass jet bridges became safer. By the early 2010s, the NFPA relaxed its ruling and paved the road for airports to acquire translucent jet bridges without legal implications. But even before the NFPA ruling, airports were taking advantage of a similar glass structure with new terminals and renovations, calling for "crystal bridges" to be constructed at their airports.
Texas airports were a big contributor in the glass jet bridge game, with both Killeen-Fort Hood and Amarillo updating their airports and adding the new see-through bridges in the process. Both projects would tag ThyssenKrupp Airport Systems for bridge installation. The two separate airport projects would combine for eight gates, with Fort Hood's two-gate overhaul opening in 2008 and Amarillo following with a brand new six-gate terminal in 2014.
The Trend Catches On
While ThyssenKrupp Airport Systems would handle the airports in the Lone Star State, JBT AeroTech's various see-through jet bridge designs would start to take hold in both California and Kansas. The Chicago-based company would first land a three-gate order for Santa Barbara's new terminal for their Jetway Glass Apron Drive Bridges in the late 2000s with the SBA terminal opening in 2011.
Wichita followed not long after, quickly placing the largest single U.S. order of its time for 12 bridges at $8.8 million for their new terminal at the time with JBT AeroTech. Wichita's title for largest glass bridge order would last till 2015 when Huntsville International Airport placed an $11.8 million order for 12 ThyssenKrupp Crystal Apron Drive boarding bridges to replace the aging steel structures that were in place. The project is expected to last through 2020, but when completed the airport will share the title for largest glass jet bridge airport in the United States with the newly rebranded Wichita Dwight D. Eisenhower National Airport.
Other projects have also appeared across the country in the years following the NFPA's rule change, with smaller airports taking advantage of the new glass structure on their airport terminals. San Luis Obispo's new terminal opened in 2017 with two ThyssenKrupp bridges becoming the first jet bridges for the small California airport.
New terminal projects have also seen the transparent counterpart to steel be selected with the new Paine Field terminal selecting JBT AeroTech's design for their privately funded terminal. The two-gate terminal is currently expected to open in early 2019 but is delayed due to the United States government shutdown impinging on the airport's operational certifications.
The Cost of a More Relaxing Experience
While the Paine Field project is nearing completion, other glass installations are on the horizon. Syracuse International Airport has very slowly and quietly implemented glass aircraft bridges into their existing terminal. Thus far, two gates have glass jet bridges on the north side of the north terminal with no timeline to replace the remaining gates.
Meanwhile, Kansas City's new airport designs have called for the 36-gate airport to have glass jet bridges, but it is unknown if the more expensive glass design will be chosen over the traditional all-steel boarding bridge.
Despite costing more than the traditional steel bridge, airports are committed to creating a different flying experience and see the glass structure as a way to make flying better.
And while the glass structure might be more expensive at larger airfields, smaller airports show that the increase may not be as bad for them. According to the Wichita Business Journal, the city had originally set aside $9.6 million for the glass jet bridges. When the airport was told it would pay $8.8 million for new bridges and it was only a 1.5 percent increase in cost compared to steel, the city council voted unanimously in favor of the translucent type. The $8.8 million pricetag also included the cost for the JetAire® preconditioned air units and Jetpower® 400 Hz ground power units that came with JBT AeroTech bridge models.
While the older steel designs might dominate airports like New York-JFK and Chicago O'Hare for decades to come, smaller airports are doing all they can to relieve stress or anxiety that might come from being in a windowless hallway. And with new projects always being announced after the relaxation of NFPA Fire Safety Code 415, the idea of more glass jet bridges appearing across the country remains a possibility.
This article was corrected on Jan. 28, 2019 at 11:06 a.m. ET to reflect the correct name of Wichita Dwight D. Eisenhower National Airport.
Although Ian McMurtry was never originally an avgeek, he did enjoy watching US Airways aircraft across western Pennsylvania in the early 2000s. He lived along the Pennsylvania Railroad and took a liking to trains but a change of scenery in the mid-2000s saw him shift more of an interest into aviation. He would eventually express this passion by taking flying lessons in mid-Missouri and joining AirlineGeeks in 2013. Now living in Wichita, Kansas, Ian is in college majoring in aerospace engineering and minoring in business administration at Wichita State University.
Latest posts by Ian McMurtry (see all)