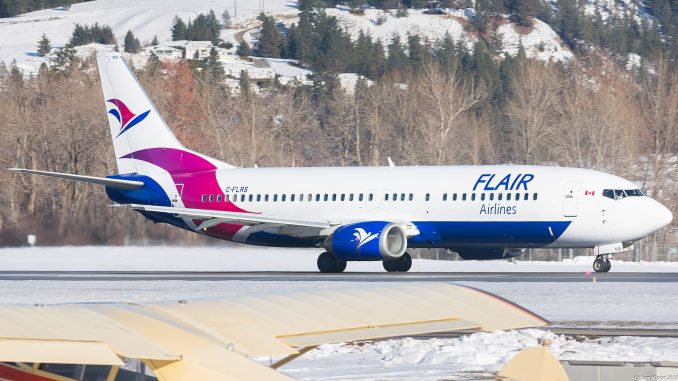 Canada's ultra-low-cost carrier (ULC) Flair Air announced a rebranding strategy on Wednesday. The rebranding strategy includes new crew uniforms, a new aircraft livery, an all-new website, a new logo, and more. New flight attendant uniforms are designed by Canadian designers CarryCorp, with a release date of April 2019. A freshly designed aircraft livery will be featured on the 737-800 set to enter service in March 2019. Flair's new website, airport signage, inflight menus, and more were released on February 13, 2019.
"The bright modern design is reflective of the positive spirit we want travelers to experience and make a solid statement that Flair is on a mission to make travel more accessible, more affordable and more desirable while allowing us to add little humour along the way," Flair's COO Charles McKee said.
Since the summer of 2018, Flair has increased its workforce by 20 percent to over 300 personal, according to the press release.
In addition to growing their employee size, the airline has moved to a larger office building at the Edmonton Internation Airport, announced new routes, and inaugurated the first 737-800 to the fleet.
"For too long Canadians have had virtually no competitive choice between the cozy duopoly of full service airlines," said David Tait, Flair's Executive Chairman in a press release. "But our fares are as much about competing with the great Canadian couch as with the 'big two' and the new look we are about to introduce will make us even harder to ignore."
The rebranding of Flair Airlines is long overdue as the carrier has been going through some rough times in the press.
Last November, Flair made headlines due to a pilot calling the Royal Canadia Mounted Police on passengers at the Vancouver Airport after their flight had been delayed 14 hours. The Huffington Post reported the police were called to the gate as crowd control to calm the passengers down. The airline told the Huffington Post they did not ask the police to take over communications and issued full refunds to all the passengers. In addition, the passengers received hotel rooms, future travel credits, and additional assistance with finding new travel options.
The next month, the airline made headlines twice; once for a potential union strike and the other for a lawsuit against Canadian low-cost carrier WestJet.
The union issued a strike notice in early December 2018 due to a dispute over a new-hire pension policy. According to Global News, new Flair employees were not receiving pension benefits and were earning thirty percent less than more senior employees. A new deal was worked out and the strike was canceled after a couple of days.
Following shortly after, Flair Chief Executive Jim Scott claimed a case of "David and Goliath" between Flair Airlines and WestJet Airlines, stating WestJet, and subsidiary Swoop Airlines put Flair into jeopardy with its predatory pricing and scheduling. The case went to the Federal Court of Canada with the chief justice ordering for WestJet's vice president be present in court. Interim commissioner Matthew Boswell agreed that WestJet and Swoop were engaging in a competitive price battle against Flair, according to The Canadian Press.
The Edmonton-based carrier began its life as a charter operator in 2005 with two Boeing 737-200. In 2017, Flair transitioned to a scheduled operator with a fleet of 737-400s and 737-800s. The airline currently has ten 737 aircraft, seven 400 series, and three 800NG series jets.
Flair uses the ultra-low-cost strategy of targeting key United States destination cities such as Las Vegas, Palm Springs, Phoenix-Mesa, Orlando, St. Pete-Tampa, and Miami. In Canada, the carrier claims Edmonton as their main focus city with Winnipeg coming in second place. The carrier has more of an impact on the Southwestern corner of Canada with routes across the country.
Matthew Garcia became interested in aviation at the age of 12 when he installed Microsoft Flight Simulator X on his computer. He was instantly "bitten by the bug" and has been in love with aviation ever since. Matthew took his first introductory flight in 2013 and began normal flight training in February of 2015. Over the years, Matthew's love and knowledge for aviation has grown tremendously, mainly due to FSX. Garcia flies highly advanced aircraft in a professional manner on a highly complex virtual air traffic network simulating real world flying. In 2016 Matthew achieved his private pilot certificate from the FAA. Now he studies journalism at the University of Nebraska at Omaha.
Latest posts by Matthew Garcia (see all)