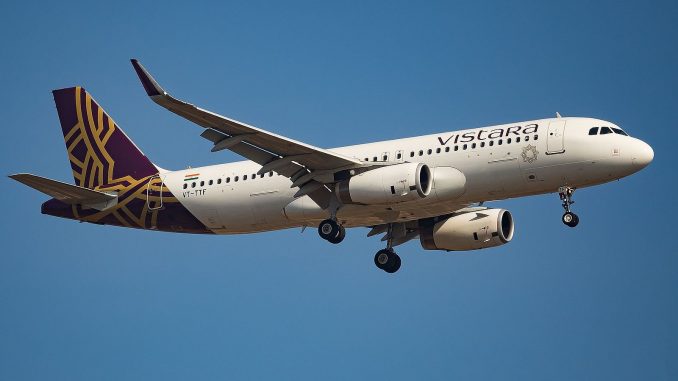 Vistara, a growing Indian airline, announced two new routes recently in conjunction with a codeshare partnership with Japan Airlines to strengthen the airline's domestic network as it readies for launch of international operations soon.
Better Domestic Feed
The first new route announcement is to Raipur from Delhi with a double daily flight operation allowing for same day returns, an attractive offering for many business travelers. Raipur is growing as a focus city for international and domestic investments and being Vistara's 23rd destination in India will provide more connectivity for people of that city and beyond via New Delhi
Flights are expected to begin at the end of the month with both morning and evening departures from both cities.
Starting shortly afterwards in the first week of April, Vistara will launch flights to Dibrugarh, an emerging industrial and technology hub in the region. These flights will not operate non-stop from Delhi but will operate via Bagdogra, another Indian city.
These flights are not very well timed for business travel as the flights to Raipur but there seems to be a focus on connectivity in Delhi, providing opportunities for connections throughout the country.
This all plays into Vistara growing and re-aligning its domestic network to turn New Delhi into a hub for international travel. For Vistara to truly be successful in international operations where aircraft sizes are generally larger, it must focus on being able to fill seats in New Delhi for international travel.
While there may be originating demand in Delhi it is likely not enough without a vast feeder network throughout India shuttling passengers to New Delhi and onwards.
Business Need for International Growth
Given the dire state of the Indian aviation industry mired with revenue depression, rising fuel costs, and declining currency troubles, it makes sense for the carrier to start looking outwards for healthier revenue. Fares for international routes would be subject to less competition than the domestic industry that has essentially been strangling airlines. This is particularly true in the fast-growing premium international segment where Vistara likely has the potential to succeed due its position as a full-service carrier and not a low-cost one.
Government approval for international flying is still pending but the airline is trying to do its best to plan ahead to be able to launch international service "within a few weeks," according to chief strategy and commercial officer Sanjiv Kapoor.
International operations will begin with smaller narrow-body Airbus A320 family aircraft as early as April of this year.  Vistara CEO Leslie Thng has stated that the aircraft slated to start flying international routes is already in service domestically.
However, what everyone is waiting for is the beginning of the Boeing 787-9 deliveries in early-2020. This would truly allow the carrier to operate long haul flights due to the range of the aircraft. Vistara would easily be able to provide nonstop service to the majority of world business hubs with 787s.
Due to Vistara being a joint venture between Tata in India and Singapore Airlines, Vistara pilots have already begun flight training on the 787 with Singapore's subsidiary Scoot to have a cadre of qualified pilots right as the airplanes start to roll in.

Hemal took his first flight at four years old and has been an avgeek since then. When he isn't working as an analyst he's frequently found outside watching planes fly overhead or flying in them. His favorite plane is the 747-8i which Lufthansa thankfully flies to EWR allowing for some great spotting. He firmly believes that the best way to fly between JFK and BOS is via DFW and is always willing to go for that extra elite qualifying mile.

Latest posts by Hemal Gosai (see all)