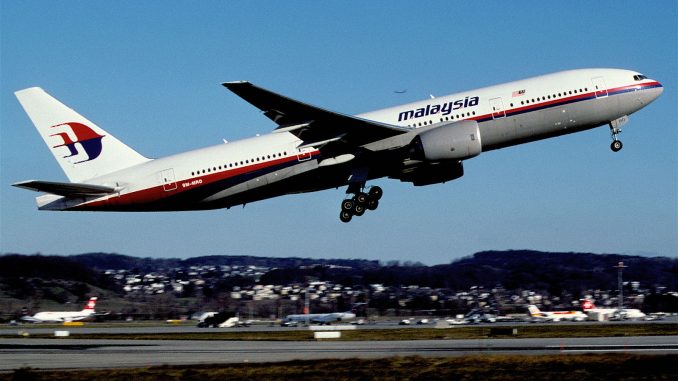 Five years ago, Malaysia Airlines flight MH370 disappeared over the Indian Ocean without much of a trace. Only a few wreckage pieces were found floating in the ocean or washed ashore by sea currents hundreds of miles away. A number of relatives who had loved ones aboard flight MH370 now demand a new search for the lost aircraft and its victims.
When MH370 took off from Kuala Lumpur in Malaysia on March 8, 2014 everything appeared in place for a routine flight to Chinese capital Beijing. The Boeing 777-200ER with 227 passengers and 12 crew aboard lifted off at 12:40 a.m. without incident. At 1:19 a.m. Captain Ahmad Zahari Shah, a pilot with over 33 years of experience, radioed Malaysian air traffic control with a brief message: "Good night, Malaysia Three-Seven-Oh."
This would remain the last sign of life from the flight as everything that appeared routine about this flight ended after these 39 minutes. What happened after 1:19 a.m. remains one of aviation's great mysteries.
With the exception of a few pieces of wreckage washed ashore on different coastlines, there is still no sign of the aircraft. Experts theorize that the 777 continued its flight south for a few hours — off course to the north-eastern route towards Beijing — and now rests somewhere on the bottom of the Indian Ocean. Where exactly and how it got there remains unknown.
Theories on the cause of the disappearance range from lack of fuel to a botched hijacking to being shot down by armed forces to suicide by pilot. The only thing investigators are fairly certain of is that the aircraft manually changed course after the last radio message and that the aircraft fuselage broke apart – either in the air or on impact.
Understandably, this lack of certainty remains difficult, if not impossible, to accept for families and friends of the 239 people that were on board. The official search ended in May 2018, after $145 million had been spent without results.
On the fifth anniversary of the disappearance of MH370, families of the crash victims demand renewed efforts to find the airplane. Grace Nathan, who lost her mother in March 2014 issued a call to action: "We have to prevent something like this from happening again. This is a service Malaysia can provide to the world. It will benefit everyone who flies."
Governments across the world have since agreed via the global civil aviation authority ICAO to make satellite tracking of passenger aircraft mandatory in 15-minute intervals. In addition, airplanes now have to be equipped with robust and automatic technology allowing the localization of even a heavily damaged aircraft over long periods of time.
While this will be of little consolation to those that lost loved ones on flight MH370, it may help future searched should such a tragedy re-occur.
This story was updated on Wednesday, March 13, 2019 at 8:18 p.m. ET to correct a numerical error regarding the passenger count onboard the flight.  
Adrian joined AirlineGeeks as a writer in 2017. He had always wanted to become a pilot and while he chose a different career path for now, his interest in aviation continues to grow every day. Adrian was fortunate to travel extensively for business in the past five years. As a result, he focuses his research and writing on passenger services and experiences on a variety of airlines. His favorite aircraft include the Airbus A350, A380, and the Embraer passenger jets.
Latest posts by Adrian Vannahme (see all)