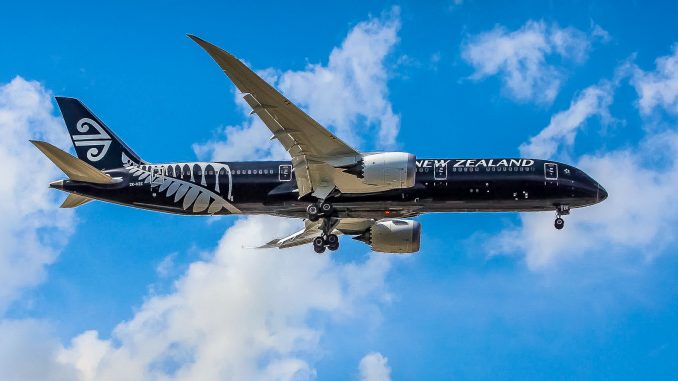 After launching a review of operations in January, Air New Zealand has announced that it will be reducing its growth targets and deferring delivery of future aircraft. The decision comes after the carrier reduced its pre-tax earnings guidance from between NZ$425 million ($288 million USD) and NZ$525 million ($356 million USD) to between NZ$340 million ($240 million USD) and NZ$400 million ($271 million USD).
Additionally, the carrier also reported a 34.5 percent fall in profit for the first half of this year. Those combined factors lead New Zealand's national carrier to reduce its network growth expectations to three to five percent over the next three years, down from five to seven percent.
In terms of deferring aircraft delivery, the carrier plans to delay the delivery of three Airbus A321neos by one year, one Airbus A320neo by two years, and two additional widebody aircraft by four to five years. The carrier, though, is still expected to receive one leased A320neo this year and another leased A320neo next year.
Air New Zealand also stated that it will be extending the retirement of its aging Boeing 777-200 fleet to between 2023 and 2025, as the carrier makes room for additional orders of either Boeing or Airbus aircraft. The deferrals in delivery and extended retirement will eventually lead to a deferral of NZ$750 million ($509 million USD) in capital expenditures.
Air New Zealand hopes that the reduced expectations and delivery deferrals will allow the carrier to improve revenue growth, efficiency, operating costs and overall customer experience.
"The actions we are announcing today are focused on re-aligning our business to ensure a return to earnings growth in the lower growth environment," said Air New Zealand CEO Christopher Luxon. "Air New Zealand is experienced at adapting to changing macro environments, and the actions outlined in the business review today will ensure the business is more dynamic, increasingly competitive and financially resilient for the future."
However, Air New Zealand still expects some growth as the carrier plans on increasing the frequency on its Auckland-Taipei and Auckland-Chicago routes. The carrier will also launch new service between Auckland and Seoul later this year.
"We are putting extra effort into lifting the performance of some routes that we feel are not meeting their potential, while refocusing our assets on those routes which are performing ahead of expectations," continued Luxon.
The airline has also announced that it is embarking on a NZ$60 million ($41 million USD) cost reduction program that will last two years. The Auckland-based carrier hopes that the program will get rid of redundancies and operational efficiencies that are affecting the airline, such as issues with Rolls-Royce engines that are used on its Boeing 787-9 Dreamliner fleet.
An "AvGeek" for most of his life, Akhil has always been drawn to aviation. If there is an opportunity to read about an airline, fly on a new airplane, or talk to anyone about aviation, he is on it. Akhil has been on over 20 different kinds of aircraft, his favorite being the MD-80. Additionally, he has visited 5 continents and plans to knock out the remaining two (Africa and Antarctica) soon. Based in Dallas, Akhil graduated from Texas A&M University with a degree in Management Information Systems and currently works in consulting. His dream is to become an airline executive.
Latest posts by Akhil Dewan (see all)