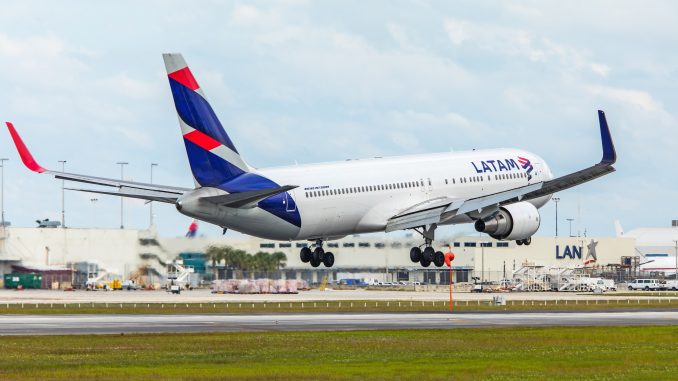 American Airlines and the LATAM Airlines Group this week filed an application with the U.S. Department of Transportation for a joint venture. If approved, the joint venture would bring in over $273 million in annual benefits in improved connectivity, passenger experience and potentially new routes for both airlines, covering flights between the United States and Brazil, Chile, Colombia, Paraguay, Peru and Uruguay.
"The [joint venture] will integrate highly complementary route networks—with one anchored in the United States and the other in some of South America's largest and most vibrant economies—to produce the kind of integrative, pro-competitive efficiencies that the [DOT] has observed from joint businesses implemented elsewhere worldwide," said American and LATAM in a joint statement.
Both American and LATAM maintain a strong market presence throughout South America, with American covering 26.7 percent of capacity in the region and LATAM covering 26.5 percent. American serves the continent mainly through its southerly hubs in Miami and Dallas, both acting as gateways to points south. The joint venture is classified as "immunized," which would exempt the carriers from anti-trust implications, to allow them to "increase frequencies, upgauge routes and add new flights".
The move comes at a time when U.S. airlines are beginning to look south for new partners. United Airlines, who is third on the list for South American services, maintains a 13.2 percent share of capacity in the market and proposed a joint venture with fellow Star Alliance partners Avianca and Copa Airlines.
The two oneworld airline alliance carriers announced the proposed venture back in 2016, but the venture was delayed as the carriers awaited ratification of the U.S.-Brazil Open Skies Treaty. Included in the application is a scenario should the joint venture not be approved. In it, both carriers talk about how they would then compete with each other and drop codesharing in order to disrupt the market.
The airlines hope to receive approval for the joint venture by the end of 2019.
An "AvGeek" for most of his life, Akhil has always been drawn to aviation. If there is an opportunity to read about an airline, fly on a new airplane, or talk to anyone about aviation, he is on it. Akhil has been on over 20 different kinds of aircraft, his favorite being the MD-80. Additionally, he has visited 5 continents and plans to knock out the remaining two (Africa and Antarctica) soon. Based in Dallas, Akhil graduated from Texas A&M University with a degree in Management Information Systems and currently works in consulting. His dream is to become an airline executive.
Latest posts by Akhil Dewan (see all)