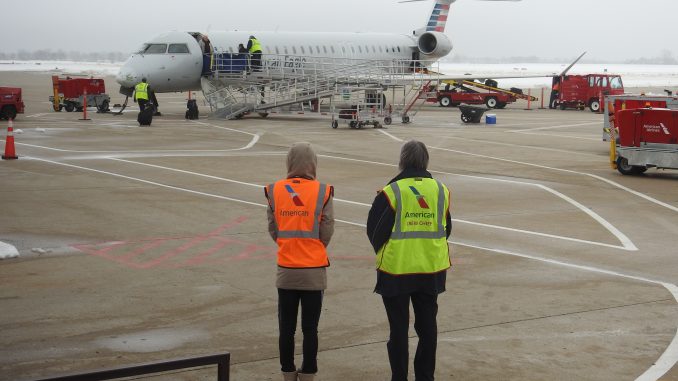 Three airlines informed Columbia Regional Airport in central Missouri that they will be temporarily suspending operations under what they claim are unsafe airport operations. Mesa Airlines, SkyWest Airlines and Envoy Air all see Columbia's only operating runway 13/31 as a safety concern but would not specifically list publicly why the runway was not up to the airlines' standards.
For Columbia, losing these carriers means the majority of current flights are gutted for the time being. Flights impacted are the twice-daily CRJ-900 flights to Dallas/Ft. Worth on Mesa, once daily CRJ-200 flight to Denver on SkyWest, twice daily American CRJ-700 flights to Chicago O'Hare operated by SkyWest and Envoy's evening ERJ-145 flights to Dallas/Ft. Worth on specific dates. The lone remaining commercial service out of Columbia is with Air Wisconsin which operates twice daily Bombardier CRJ-200 service to Chicago O'Hare for United Airlines.
The issue stems from Columbia's recent push to renovate and expand its existing Runways 2/20 and 13/31, a project that the airport has been working on throughout 2019. The airport started by repaving and expanding the smaller Runway 13/31 from 4401 feet by 75 feet to 5500 feet by 100 feet to allow for airline operations to continue when they transitioned to working on the primary Runway 2/20.
Columbia Regional Airport has finished work on Runway 13/31 and has moved on to working on Runway 2/20 with the runway closing on April 1, 2019 to begin 75 days worth of renovations. Airlines started alerting the city on Friday that routes would be suspended until changes were made to show that the runway was safe to use. In a press release, airport manager Michael Parks outlined that the runway was FAA part 139 compliant and that the city had met with airline representatives to approve the repaved runway before closing the main runway for repairs.
In a Columbia Regional Airport post on Facebook, passengers seem to mirror the concerns of a potentially unsafe runway, pointing out that there was a large jarring drop were the pavement transitions between intersecting runways and airlines informed the airport that some aircraft cannot take off from the smaller runway under wet conditions. In a follow-up post on Sunday evening, City of Columbia Interim Manager John Glascock said that the city and construction company Burns & McDonnell were looking into the 'crown' between the intersecting runways and ways to reduce the crown without completely removing it since the crown is required by the FAA for drainage purposes.
After a meeting with the three airlines on Monday, the City of Columbia revealed via a press conference at the airfield that the airport will close Runway 13/31 for emergency repairs and that no aircraft will operate from the mid-Missouri airport until at least April 15th. Prior to the conference, American had already released their own statement saying that after meeting with the city that all Columbia flights would be suspended for a week till the airport fixes the issue. The airport did not say how long or at what cost it would take to fix the 'crown', but did say they plan to be transparent for the sake of the airlines and passengers that have been effected by the airport's closure.
The city says in the meantime that passengers should contact their carriers to check their flight status and potentially find alternative options due to Columbia's current lack of service. The city also said it did not know if all airlines would waive change fees for the cancelled flights.
Article was updated on April 8, 2019 at 2:43pm with the result of the City of Columbia's meeting with the airlines.
Although Ian McMurtry was never originally an avgeek, he did enjoy watching US Airways aircraft across western Pennsylvania in the early 2000s. He lived along the Pennsylvania Railroad and took a liking to trains but a change of scenery in the mid-2000s saw him shift more of an interest into aviation. He would eventually express this passion by taking flying lessons in mid-Missouri and joining AirlineGeeks in 2013. Now living in Wichita, Kansas, Ian is in college majoring in aerospace engineering and minoring in business administration at Wichita State University.
Latest posts by Ian McMurtry (see all)