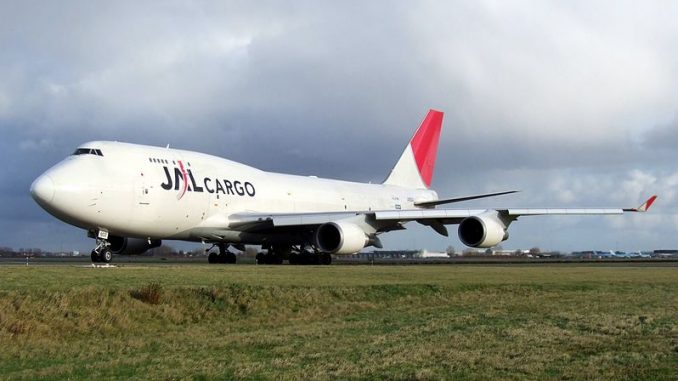 Due to a rough 2000s, Japan Airlines (JAL) was struggling and by 2009, its inevitable trip into Corporate Rehabilitation Law was on the horizon. As the airline looked for ways of reducing debt the presence of some of their underperforming branches, one way was the reduction of JAL Cargo and removal of cargo-specific flights by the airline.
At the time, JAL Cargo was operating with a fleet of 11 Boeing 747-400Fs and three Boeing 767-300Fs with the 747s operating long-range routes to Europe and North America while the 767s would serve China. The airline would also utilize its commercial aircraft's belly space to add more cargo options for consumers in addition to dedicated cargo aircraft. By April 2009, the cargo fleet would be trimmed to just eight 747s as the airline was reducing operations in the wake of the recession.
JAL Cargo's marketing strategy revolves around the idea of selling specific cargo demands called J PRODUCTS to consumers depending on shipping needs. J PRODUCTS include temperature-controlled hauling with J TEMP°, a rushed shipping option called J SPEED and special operations for sensitive cargo like cars and art.
In 2008, one year before entering Corporate Rehabilitation Law, JAL Cargo was operating with as much as 19 billion available kilometer tons worth of cargo but large the shifting market had seen the cargo branch lose as much as 5 percent of its international productivity year after year. Furthermore, the airline's cargo arm was operating with a load factor of just 57.3 percent by 2008. JAL Cargo would also struggle to attract mail contracts with domestic mail kilometer tons of cargo falling from 86 million in 2007 to just 27 million in 2008.
In its 2009 financial report, Japan Airlines outlined that the airline was taking its  'nothing off limits' cost-cutting measures to the next level, shown under Corporate Rehabilitation Law when the airline would end all JAL Cargo-specific flights after 30 years of operation. The Boeing fleet would be disbanded as the airline would downsize their cargo operations to just commercial carrier aircraft belly usage.
Due to the discontinuation of cargo-only flights, JAL would have to leave the WOW Cargo Alliance which had been a member of since 2002. The departure of JAL left the alliance with just two active members in SAS Cargo and Singapore Airlines Cargo.
As anticipated, the drop in cargo flights offered would affect the Japanese cargo arm as the first financial report after exiting Corporate Rehabilitation Law in 2011 noted that cargo and mail revenue dropped from ¥199,841 million in 2008 to just ¥88,362 million in 2011. However, cuts to other airline services would allow cargo to still play a strong role in its reduced form as cargo and mail dropped from 11.7 percent of total revenue in 2008 to 8.2 percent of total revenue in 2011.
Although JAL found its new footing and the commercial airline continued to improve, cargo would stay stagnant over the next five years as the airline would see its cargo revenue decrease to as low as ¥78,252 million in 2016. JAL Cargo would also slip in percentage of revenue for the parent company to as low as 6.7 percent of total revenue that same year.
However, recent changes have seen the airline improve its cargo operations. The airline offers special J PRODUCTS for some cargo operations with the use of some alliance partners. Some of these offers include J LINK which utilizes the Haneda hub as a quick cargo point to link domestic cargo to international destinations and J SURF which uses Honolulu and Kona as a cargo holdover point to get goods to North America via oneworld alliance partners such as American Airlines Cargo and Qantas Freight.
Furthermore, the airline has strengthened JAL Cargo's presence in Europe with an alliance with Azerbaijan-based cargo carrier Silk Way West Airlines. The alliance would allow Silk Way West to get a stronger foothold in Japan while JAL Cargo gets more options for getting J PRODUCTS across Asia to Europe.
The airline has also continued to promote its presence in nearby China with a two-pronged truck and plane strategy now being offered to consumers. On top of JAL Cargo operations in cargo holds of commercial flights, the flag carrier of Nihon offers trucking services to China with local trucking companies to offer JAL Cargo to smaller cities not serviced by Japan Airlines directly. This truck-to-plane tactic is also used domestically where trucking company Hirano Logistics is in charge of local JAL Cargo movements from Narita and Haneda airports using trucks that can hold 14 LD3 cargo containers.
In the wake of these programs, JAL Cargo has seen its first notable increase in cargo operations over the last few years. During the 2017 financial year, Japan Airlines would see cargo revenue increase by 8.3 percent as the airline's revenue cargo ton-kilometers would increase from 1.8 billion to 2.2 billion. A representative at JAL Cargo says that the increase in demand is thanks to a large uptick in the demand for transportation of semiconductors, auto parts and e-commerce. This trend is expected to continue into the 2018 financial report with its first three quarters showing a 10.6 percent increase in revenue cargo tons-kilometer. JAL Cargo anticipates that cargo and mail revenue will remain close to revenue numbers of ¥100 million within the next few years.
So where does JAL Cargo go from here? Well, according to JAL Cargo, the airline plans on continuing to expand operations with alliance partners and giving consumers more opportunities to ship goods. The airline made a General Sales Agent deal with VietJet Cargo in 2018 to expand commerce between Japan and Vietnam and are now looking at potentially expanding their relationship with Silk Way West Airlines due to the early success of the alliance.
JAL Cargo is also preparing for some changes to its Haneda operations and specifically J LINK with the airline expecting to see more slots at Haneda being offered that would potentially allow for new commercial routes and increased cargo operations. The cargo arm will spend 2019 analyzing Haneda operations and plan to strengthen its production system in preparation to handling more cargo. With its alliances with other carriers and the increase in J LINK taking priority, the return of cargo only flights is doubtful for JAL Cargo in the near future.
Even though the Boeing aircraft that wore the 'JAL Cargo' colors have faded into history, a revitalized and restructured JAL Cargo has made the most of new alliances and cargo options and has continued to stay an important role in Japan Airlines' success.
Although Ian McMurtry was never originally an avgeek, he did enjoy watching US Airways aircraft across western Pennsylvania in the early 2000s. He lived along the Pennsylvania Railroad and took a liking to trains but a change of scenery in the mid-2000s saw him shift more of an interest into aviation. He would eventually express this passion by taking flying lessons in mid-Missouri and joining AirlineGeeks in 2013. Now living in Wichita, Kansas, Ian is in college majoring in aerospace engineering and minoring in business administration at Wichita State University.
Latest posts by Ian McMurtry (see all)