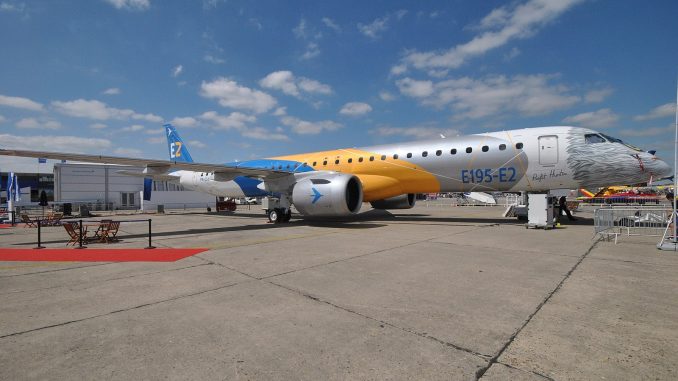 Continuing the trend of manufacturer-sponsored maintenance programs, Embraer announced on April 10, 2019, that it has signed a multi-year Total Support Program (TSP) agreement with Binter, the European launch customer of the E195-E2, to support Binter's new E195-E2 fleet. 
The Embraer E195-E2 is the largest variant of Embraer's E2 family, successor to the current E-jet variants which entered service in 2004. The first generation E-jet family includes the E170, E175, E190, and E195. 
Binter, celebrating their 30th anniversary this year, is a regional carrier based in the Canary Islands with hubs at Gran Canaria Airport and Tenerife North Airport. The carrier's fleet currently includes the ATR 72 turboprop and CRJ-1000 regional jet which each sport an eye-catching lime green and white livery. 
"We welcome Binter as the launch customer of our newest Total Support Program designed to support the needs of E-Jets E2 customers. It's a milestone for Embraer and we are delighted to celebrate Binter's 30-year anniversary by providing efficient services and support solutions to their very modern fleet of E195-E2," said Johann Bordais, President and CEO of Embraer Services & Support.
According to Embraer, TSP is a new product from Embraer TechCare dedicated to E2 customers. It is aimed at allowing operators to minimize their upfront investment on repairable inventories and resources.  It should be no surprise that TSP also includes access to Embraer technical expertise and access to its component repair service provider network. Other manufacturers, such as Airbus with its Flight Hour Services program, provide similar services designed to assist its customers with maintaining and operating their fleets in a more efficient manner. 
With TSP, Binter will have access to a robust array of services including all heavy checks, brakes overhaul, routine and non-routine maintenance and onsite technical support from an Embraer technical representative. Another feature is a suite of Embraer's eSolutions, which will monitor the health of Binter's E2 fleet and provide information on system and component maintenance. 
Binter has firm orders for three E195-E2's and is expected to take delivery of the first one in the second half of 2019.

Jordan joined the AG team in 2018 after attending AAviationDay in Philadelphia.He is actively pursuing his private pilot certificate and has been an aviation enthusiast since childhood.An attorney by trade, Jordan jokingly refers to himself as a "recovering litigator" and now focuses on subcontracts management.

Jordan focuses his writing on innovations in commercial aviation, aviation history, and other interesting topics he feels are worthy of discussion in the community.

Latest posts by Jordan Green (see all)