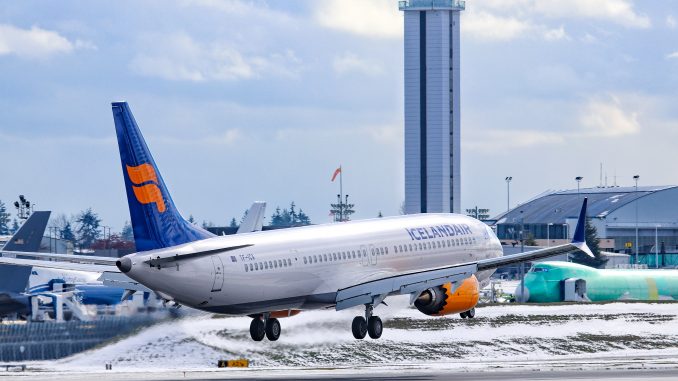 Icelandair has announced that it will be increasing its fleet size from 33 to 50 aircraft by 2025.
The move will replace the carrier's aging Boeing 757 fleet with the newer Boeing 737 MAX 8 and 737 MAX 9, of which Icelandair has 26 on order. However, in its first quarter briefing, Icelandair stated that it is considering other scenarios to speed up its fleet replacement strategy, most likely due to the worldwide grounding of the Boeing 737 MAX.
Since Icelandair had three 737 MAX aircraft in its fleet, the grounding affected Icelandair's financial performance in the first quarter with the grounding costing the carrier around $3 million USD.
In its briefing, the carrier said it is considering purchasing Airbus A321neos, which would complement the 737s.
The carrier also said it could consider transitioning to an all-Airbus fleet. With the carrier's route network aimed at serving destinations in North America and Europe, the A321neo can easily meet the distance range from Iceland and the carrier's destinations.
In April, JetBlue announced that it plans to begin transatlantic operations from Boston and New York to London using its new A321neo aircraft.
Icelandair has suffered financially over the past few years, mainly due to increased competition in the North Atlantic market but also due to a decrease in revenue and lease income.
Earlier this year, the carrier announced a restructuring plan in which the carrier would be split into four separate business units after suffering a $55 million USD loss.
In April, the carrier also dropped routes to Cleveland, Ohio and Halifax, Canada, which was partly due to the MAX grounding. Additionally, the carrier has stated that it is interested in introducing "economy only" aircraft into its fleet, in order to lower unit costs.
Icelandair has not said anything else about a possible transition to an Airbus fleet, but is in talks with Boeing regarding compensation from the ongoing 737 MAX grounding.
An "AvGeek" for most of his life, Akhil has always been drawn to aviation. If there is an opportunity to read about an airline, fly on a new airplane, or talk to anyone about aviation, he is on it. Akhil has been on over 20 different kinds of aircraft, his favorite being the MD-80. Additionally, he has visited 5 continents and plans to knock out the remaining two (Africa and Antarctica) soon. Based in Dallas, Akhil graduated from Texas A&M University with a degree in Management Information Systems and currently works in consulting. His dream is to become an airline executive.
Latest posts by Akhil Dewan (see all)