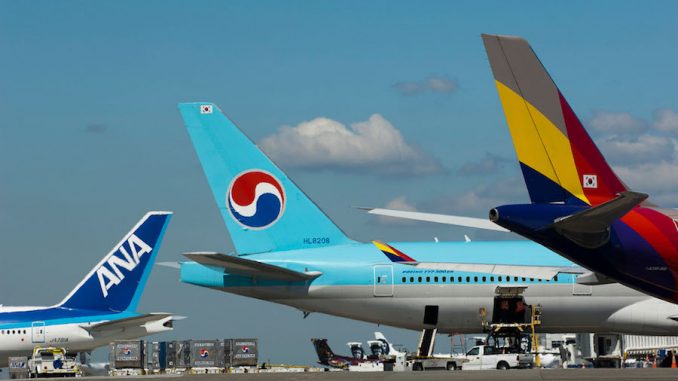 Earlier this week Asiana Airlines surprised a good portion of the aviation community by announcing that they would no longer be offering a first class product. Overall Asiana only offers first class on three routes so it's not that really that big of a deal. It's not like Cathay Pacific or Emirates were discontinuing first class.
The existing Asiana first class seats after Sept. 1, 2019 will become "Business Suites." Catering and level of service offered will be the same as business class with the only real difference being that passenger in "Business Suites" are sitting in the former first class seat.
Fares for this product should sit somewhere between existing business and first class fares.
This announcement comes at the heels of Korean Air also announcing that it is removing first class seats from many international routes.
The "Business Suites" concept that Asiana is trying to implement isn't entirely novel. Similar concepts are around, some in the reverse order even.
Removal/Rebranding of First Class
United Airlines has aiplanes equipped with seats in a cabin that was previously known as Global First. This served as their international first class product and was differentiated from their business class due to Global First being an entirely different seat.
When United Polaris rolled around the airline eventually stopped offering Global First as a separate cabin and instead allowed some of their most profitable customers reserve those seats when purchasing business class tickets.
Malaysia Airlines has also rebranded its first class to be considered "premium" business class
In the reverse scenario, Korean Air sells first class tickets on aircraft where the first class seats are the same as the business class seats and "first class" is considered the first row of the business class cabin. The differentiator between business and first, in this case, is the catering and level of service. Malaysia Airlines offers a similar concept on some of their aircraft as well.
Asiana cutting their true first class cabin highlights a problem that many carriers are likely facing. It's challenging to fill up first class cabins with paying customers that pay enough to make it worthwhile. Award inventory on Asiana first class was pretty wide open highlighting that more often than not the airline had trouble filling the seats with customers paying a cash fare.
The airline played it smart since reconfiguring the aircraft to physically remove first class seats isn't entirely necessary. They can instead offer those seats as business class, albeit with a markup, and not have to worry about the extra costs of first class catering and they may also likely save in terms of cutting down cabin crew staffing.
Better Business Class
This is yet another instance showing the overall trend of the aviation industry. For most carriers, first class cabins are getting smaller while business class is getting better. Airlines that have historically been known to offer excellent first class products are getting aircraft with fewer or no first class seats at all.
International first class appeals to and is bought for the c-suite executive who isn't important enough for a private jet and for wealthy leisure travelers. However, corporate travel for first class is slowly being reigned in and there aren't enough wealthy leisure travelers to fill cabins either.
In addition, with the rise of better business class cabins, it's hard to justify the extra costs that come with first class given that many business class cabins are as good as the first class offering on some airlines.
While improving business class cabins can increase passenger loads and yields it can often come at the cost of cannibalizing first class. The marginal increase in offerings between an excellent business class offering and a standard first class don't justify the huge price differences.
Qatar Airways called their QSuites business class product a "super business class" and their CEO Akbar Al Baker even went as far as saying that there really isn't a need for first class on their planes because their business class is simply that good.
The airline industry overall is swapping out first class seats for more business class seats that are generally easier to fill and have lower costs to operate.
This doesn't mean that first class will vanish anytime soon. There are still luxury carriers out there that offer an amazing first class product and they will continue but the overall industry trend is moving towards reducing or eliminating first class seats. It's not unreasonable either, there are plenty of business class products out there. For example, Singapore Airlines' business class looks like first class on a handful of carriers.

Hemal took his first flight at four years old and has been an avgeek since then. When he isn't working as an analyst he's frequently found outside watching planes fly overhead or flying in them. His favorite plane is the 747-8i which Lufthansa thankfully flies to EWR allowing for some great spotting. He firmly believes that the best way to fly between JFK and BOS is via DFW and is always willing to go for that extra elite qualifying mile.

Latest posts by Hemal Gosai (see all)