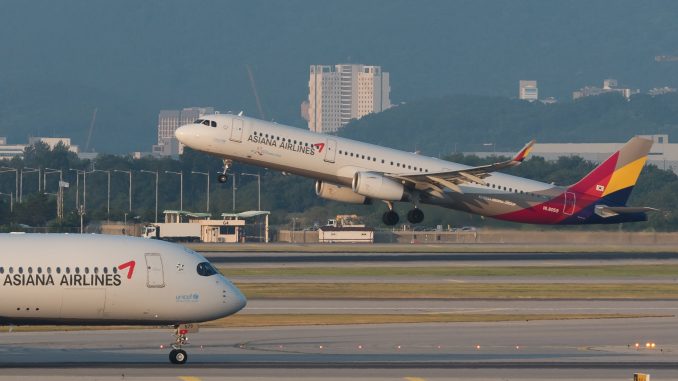 South Korea-based Asiana has announced that it will stop offering first class service in September. Also, the beleaguered carrier will terminate service to the Indian city of New Delhi and the Russian city of Khabarovsk and Juschno-Sachalinsk in July. Earlier, their arch-rival, Korean Air, announced that they will also cancel first class offerings to 27 cities starting in June.
The cash-strapped airline recorded a $167 million net loss in 2018, and the utilization rate of its aircraft was under 50 percent. In March, Co-Chief Executive Park Sam-Koo stepped down over an accounting scandal and reveal its debt was six times its equity.
Kumho Asiana Group, the parent company of the airline, has named Credit Suisse to handle the stake sale process. The Korean conglomerate is planning to sell its entire 33.47 percent stake. Also, it is believed that several Korean conglomerates are potential buyers.
In response to the creditors' demand, Asiana sold part of its assets to acquire financial support. The state-owned Korea Development Bank, one of the creditors, insisted Kumho to relinquish the airline and deny the group refinancing. Recently, the creditors pumped $1.37 billion into the carrier.
Earlier, the second largest airline in the country has offered a voluntary retirement scheme to staff who have been working over 15 years, the voluntary retiree may get two years of salary and their children's tuition allowance.
According to its website, Asiana Airline owns a fleet of 71 aircraft which operate flights to over 20 countries.

Will has been a travel agent in Hong Kong for almost three decades, as time goes by he hasn't lost his passion for his job, He still has plenty of enthusiasm for the airline industry and airport operations.