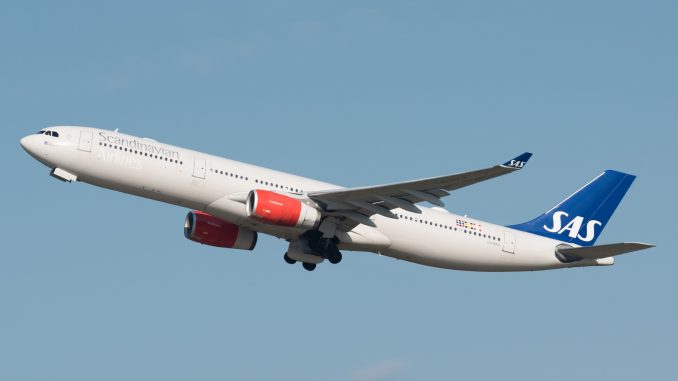 In an effort to cut emissions and save on weight and fuel, Scandinavian carrier SAS has announced that it will no longer sell duty free items onboard its flights.
The measure, which will go into effect later this year, will align with the carrier's strategy to remove emissions by 25% by 2030.
"Withdrawing tax-free sales will reduce the overall weight of the aircraft, which in turn will reduce fuel consumption and emissions," said SAS spokesperson Freja Annamatz.
"Every step on the way to sustainable travel is important," added commercial executive vice-president Karl Sandlund. "Every initiative to reduce weight and thereby cut fuel consumption helps."
Onboard duty free sales are popular with many customers, especially during long-haul flights, and SAS has said that it will aim to offer alternative means to provide passengers options to purchase goods onboard.
SAS is not the first carrier to implement a measure such as this. American and Delta removed duty free sales in 2014 and 2015, respectively. United then followed suit in 2017. However, it is worth noting that these carriers did not remove onboard sales to curb emissions. All three carriers cited a lack of onboard sales for the reason of removal.
Qantas also removed onboard duty free sales on its flights in 2017 as the carrier found it unprofitable and said it would reduced overall fuel burn on each flight.
Dutch carrier KLM is the most recent to announce the elimination of in-flight duty free sales. Initially, KLM is planning to suspend sales on European flights first and then on long-haul service early next year.
KLM has cited internet shopping and competition from airport retailers as its main reason to get rid of onboard duty free.
"Customers have grown accustomed to an almost infinite range of products for which they can look up the lowest price online," said KLM in a statement.
While purchasing gifts such as perfume, alcohol, jewelry, and even model aircraft are popular for frequent travelers looking for last-minute gifts, many carriers have found that a large amount of items remained unsold at the end of the flight.
An "AvGeek" for most of his life, Akhil has always been drawn to aviation. If there is an opportunity to read about an airline, fly on a new airplane, or talk to anyone about aviation, he is on it. Akhil has been on over 20 different kinds of aircraft, his favorite being the MD-80. Additionally, he has visited 5 continents and plans to knock out the remaining two (Africa and Antarctica) soon. Based in Dallas, Akhil graduated from Texas A&M University with a degree in Management Information Systems and currently works in consulting. His dream is to become an airline executive.
Latest posts by Akhil Dewan (see all)