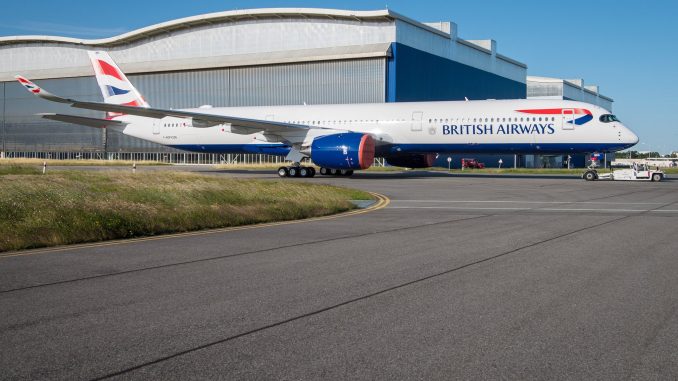 In anticipation of its delivery, the first British Airways Airbus A350-1000 XWB has rolled out of Airbus' paint shop. The aircraft is the first of 18 aircraft British Airways has on order as part of a fleet renewal aimed at next-generation aircraft.
The aircraft, which has been rumored to be registered G-XWBA in a nod to the aircraft's name, has been painted in the usual British Airways Chatham Dockyard livery. However, in contrast with its other winglet-equipped fleet, the A350 has the British flag on its winglets in addition to the tail. The design is comparable to other airlines such as Delta and Iberia who have also put their tail designs on their A350 winglets.
As with other British Airways aircraft such as the Boeing 787 Dreamliner, the Rolls Royce logo has been prominently positioned on to the engine to show a true mark of quality and British engineering.
The new Airbus A350s are slated to operate services from the airline's hub at London's Heathrow Airport to destinations including Toronto, Tel Aviv, Dubai and Bangalore. As part of British Airways' premium cabin revitalization program, the aircraft are also to be fitted with the brand new Club Suite, the airline's new Club World business class product that features an enclosed business class suite.
Long-haul operations are set to begin on Oct. 1 to Toronto after flying proving flights between London and Madrid in August.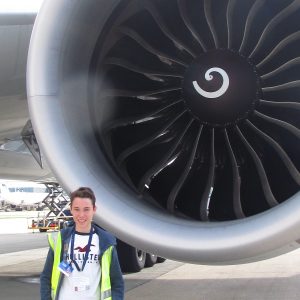 Connor has been in love with flying since the first time he boarded a plane when he was 5 years old. He loves all things aviation, and he hopes to make that his full time career in the future.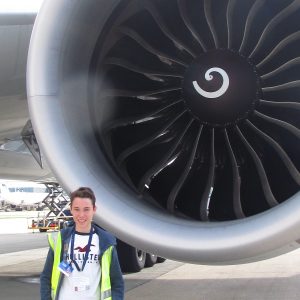 Latest posts by Connor Sadler (see all)