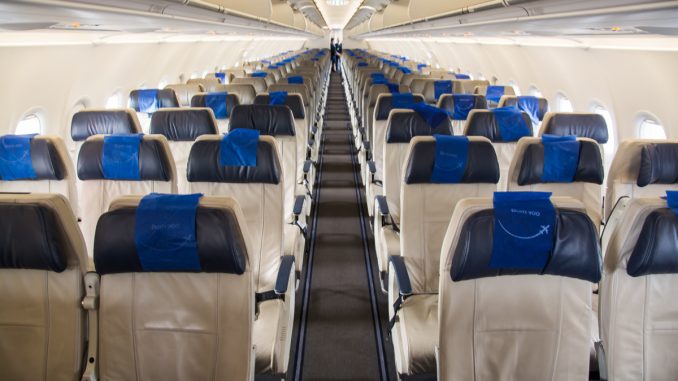 After AirlineGeeks joined Azul Brazilian Airlines on its inaugural Airbus A330neo flight from Sao Paulo to Recife and back, it was time to test out another next-generation Airbus aircraft in the airline's fleet, the Airbus A320neo. The next-generation variant of Airbus' popular A320, the A320neo brings increased efficiency to the 32-year-old airliner.
Azul started operating the type in December 2016 as a way to increase its presence in the Brazilian domestic market. Compared to the Embraer E190/195s, the operational costs of the A320neo is significantly lower, which allows Azul to be more aggressive on its routes, competing more with the sorts of LATAM and Gol.
One of the routes Azul operates its 27 A320neos, according to planespotters.net, on is Campinas-Porto Alegre.
AZU4063: VCP-POA
The flight was at the start of the first departures wave of the day from Campinas. The aircraft, registration PR-YRW and named "Fenômeno Azul" (Portuguese for "Azul Phenomenon") was brand new, being delivered to Azul in December 2018, the 20th of an order of 63 A320neos.
As the sun started to rise over the airport, the morning arrivals had already filled the terminal with connecting passengers. My gate was at the far end of domestic Pier C. Each gate occupies a big area of the terminal, making it seem like the airport can fit more gates but the capacity of the airport is much larger than the demand.
In a few minutes, my flight was called, respecting the boarding priorities.
One of the first to board, I took my seat, 12E, a middle seat in the emergency exit row. The row, ideal for taller travelers, always offers much more space in comparison to "regular" seats.
Nevertheless, the cabin features with 174 leather seats in an all-economy configuration. The first five rows have additional space, with Azul selling them for an additional fee marketed as "Espaço Azul" (Azul Space). They are marked with navy blue headrests, while the others have grey ones.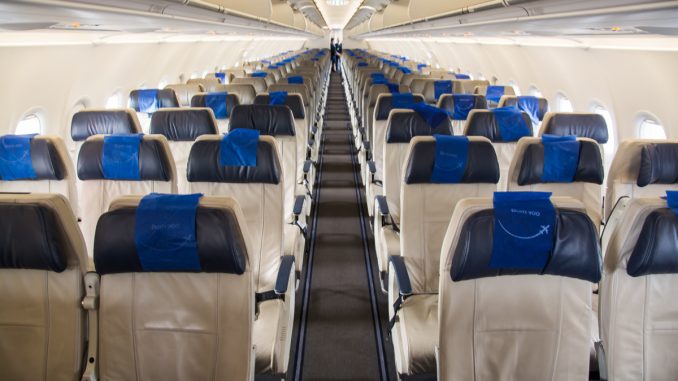 Each seat has its own personal on-demand in-flight entertainment system, 110v AC power outlets and USB charging ports.
At 08:08 a.m. doors were closed and 15 minutes later, we lined up on Runway 15. After a surprisingly quiet takeoff thanks to the A320neo's CFM LEAP 1-A engines, PR-YRW was airborne. A left turn soon followed, bowing to our final destination.
The in-flight entertainment system represents a huge evolution for Azul when compared to the 2008 system used in the Embraers that Azul operates. The screen is sufficiently big and the system offers live television as well as on-demand movies and a flight map. This is not often seen in narrowbodies around the world, particularly on a domestic flight.
The movie options were sufficient for the one-hour and a 30-minute domestic flight. Movies were offered in Portuguese, Spanish and English.
This flight had also available Azul Magazine, which is a pretty interesting and quick read. This edition of the magazine promoted Bonito, a wonderful city in Brazil that Azul serves with four weekly flights from Campinas.
Our cruise altitude would be 38,000 feet for the quick hop south. In a few moments, the in-flight service was started. Snack options, which change each flight, featured toasted bread, orange cake, apples, polvilho biscuit and jelly beans. To drink, options were soft drinks, as well as water and juice. Following the initial service, coffee was served.
At 9:21 a.m., while we entered Rio Grande do Sul, our descent was started. An uneventful approach proceeded and at 09:46 a.m. we landed in Porto Alegre, Brazil's southernmost capital, nine minutes before our scheduled arrival.
After landing, Azul blocks the screens completely to show an announcement of its frequent-flyer program. This may be especially bothersome for people who are watching a decisive soccer match, for example. Indeed, I believe this is exactly the reason why they block the screens.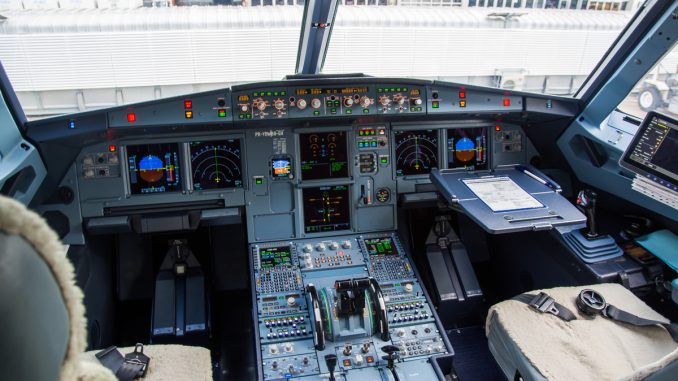 The last passenger off of the aircraft, I enjoyed the remote deboarding as much as I could as from September, Azul is expected to move to Porto Alegre's new terminal. While I stayed in Porto Alegre, PR-YRW would return to Campinas as AZU4059.
AirlineGeeks would like to thank Azul for allowing us onboard both of its next-generation aircraft, the A330neo and A320neo.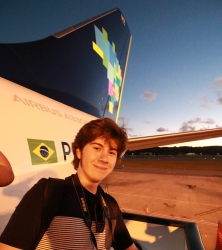 João has loved aviation since he was six-years-old when he started visiting his home airport in Porto Alegre, southern Brazil. As he always loved writing, in 2011, at age 10 he started his very own aviation blog. Many things have happened since then, and now he is putting all his efforts into being an airline director in the future.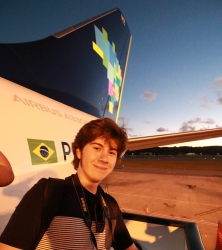 Latest posts by João Machado (see all)