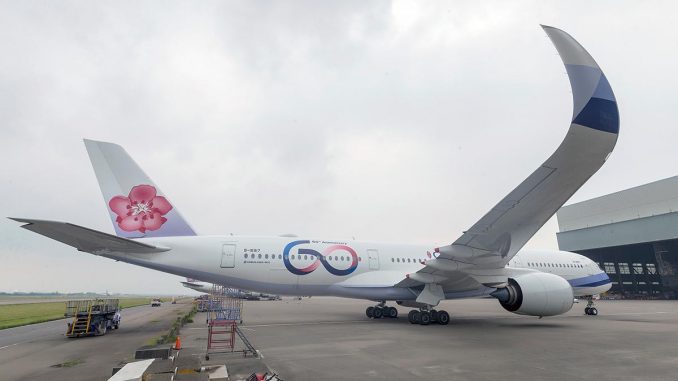 Taiwan's China Airlines will soon be flying its Airbus A350-900XWB jet between Taoyuan Airport and Los Angeles (LAX), complementing the Boeing 777-300ER jet currently flying the route. China Airlines expects to start serving LAX non-stop with the A350 beginning Oct. 27, 2019. However, once the A350 begins flying to LAX, China Airlines will no longer fly the A350 to Ontario International Airport (ONT) located in the eastern Los Angeles area and will revert service back to the 777-300ER.
On a majority of its trans-Pacific routes, China Airlines flies the 777-300ER. In North America, the airline currently only flies the A350 regularly to Ontario International Airport (ONT) and Vancouver (YVR). For a short period in 2017, China Airlines flew the A350 on the Taipei to San Francisco route, but it was replaced with 777-300ER service in 2018. San Francisco is China Airlines' first North American destination to have A350 service.
In addition to adding the A350 to its LAX service, China Airlines will also be bringing back its afternoon departure from LAX, CI005, increasing the number of flights departing LAX on Mondays, Wednesdays and Fridays to two. Flight CI005 was discontinued in March 2018 when China Airlines began serving Ontario International Airport with an afternoon departure. The Ontario flight, however, was switched to a late evening departure, leaving EVA Air to be the only Taipei-bound carrier departing the Los Angeles area in the afternoon.
Due to popular demand, China Airlines is resuming its long-lived CI005 service after a nearly 19-month hiatus. The flight number has been used by the airline continuously since the early 1980s when the airline first began serving LAX. The service resumption will provide travelers flying between Taiwan and North America with more options.
China Airlines will fly its A350 jet from LAX on CI005 service only on Wednesdays and Fridays beginning Oct. 28, 2019. On Mondays, CI005 will be flown by the existing 777-300ER. For CI007, the daily late evening departure, the airline will fly the A350 only on Mondays beginning Oct. 27, 2019. On other days, the flight will continue to be flown by the 777-300ER.
The Taipei-based carrier currently has 14 A350-900XWB aircraft in service mainly serving long-haul routes to North America and Europe. The aircraft features three service cabins with 306 seats in total including 32 business class seats, 31 premium economy class seats, and 243 economy class seats. The A350 also features China Airlines' NexGen cabin design which consists of modern design elements, spacious layouts, the Sky Lounge, and mood lighting.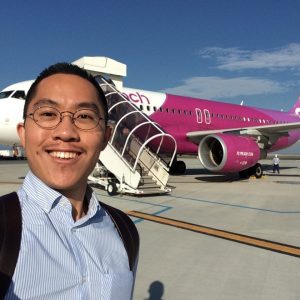 Most people hate long flights or overnight layovers, but Albert loves them. The airport and flying parts of traveling are the biggest highlights of any trip for him – as this avgeek always gets a thrill from sampling different airline cabin products and checking out regional developments happening at local U.S. airports. He's flown on almost every major carrier in the U.S. and Asia Pacific, and he hopes to try out the new A350s soon.

Albert recently completed his undergraduate studies in Business Accounting at USC in Los Angeles and he is currently recruiting for a corporate analyst position at one of the U.S. legacy carriers. During his college years, he interned at LAX for Los Angeles World Airports working behind-the-scenes (and on the ramp) in public relations and accounting. Outside of writing for AirlineGeeks, he enjoys trekking the Hollywood hills, visiting new hotspots throughout SoCal, and doing the occasional weekender on Spirit Airlines.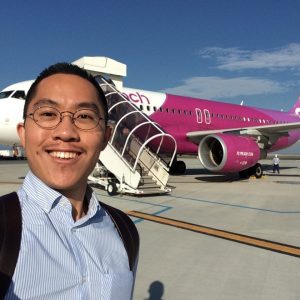 Latest posts by Albert Kuan (see all)