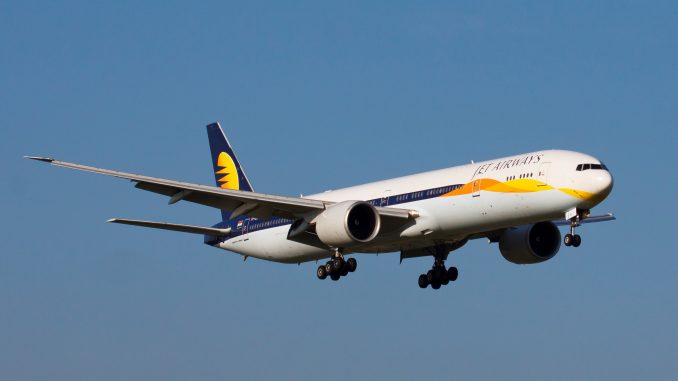 The dust really hasn't settled for Jet Airways. The former carrier spent a considerable portion of the past few years in death throes until it was finally grounded this past April. The airline was doing nothing but burning cash at an alarming rate concerning investors such as Etihad and various Indian banks.
There was no money to pay outstanding loans or employees, many of which had gone without paychecks for months. Lenders had enough of the failing airline and after it was grounded a request for bids was put out for interested parties to acquire anywhere between 33 to 75 percent of the airline.
The deadline for this sale process was May 30 which came and went without any realistic offers for the beleaguered airline.
Bankruptcy and Employee Bid
Bankruptcy proceedings have begun with the National Company Law Tribunal admitting an insolvency petition filed by the State Bank of India on behalf of 26 lenders on June 20.
In an unexpected turn of events, several groups of Jet Airways employees partnered up with Adi Partners, a London-based global management and investment advisory firm, to acquire a 75 percent stake in the airline.
The terms of the deal give Adi Partners a 49 percent ownership share with the employees receiving 26 percent. The remaining 25 percent would continue to be held by the banking consortium.  The sum that the airline employees need to gather is not a trivial amount and their source of funding should be called into question. Where employees who haven't been paid for months are getting money for this sort of buyout is a little bit of a head-scratcher.
They state that a request has been made to Law Tribunal to free up some of Jet Airways' remaining cash to pay employees or at least divert some of those funds back into the airline.
Not all employees, however, are onboard with this idea with the pilots' union distancing itself from this announcement.
The Airline is Already Cannibalized
In reality, however, it seems odd that there are still attempts to revive the airline. Even if the airline were set to fly again it isn't really clear if these alleged 10,000 remaining employees are even available to start working again. Everyone else has already left in masses to other airlines.
In addition, Jet Airways only has around 15 planes left in its fleet that it actually owns. The other 100+ planes were all leased and the majority of these planes have already been repossessed by lessors and are already flying for other airlines in India.
More importantly, many of Jet Airways' 440+ slots at Mumbai and Delhi airports have already been doled out to other Indian airlines. SpiceJet has won 43 percent of the slots. Other domestic airlines were less than successful in their quest for the slots. IndiGo, GoAir, Vistara, and AirAsia India have received a total of 32 percent combined.
While there is some expectation that these slots would be returned to Jet Airways once the airline returns to the skies, that really doesn't seem realistic. These other airlines have already ramped up capacity and have filled the gaps Jet Airways has left behind. It's hard to picture the other Indian carriers willingly giving up the slots they've received.
At the end of the Jet Airways has lost over half its employees, nearly all its airplanes, and basically all its slots. What is there left to really revive? At most, it would be a skeleton of its former operation and that point the question is just why? There really doesn't seem like a good reason to bring Jet Airways back.

Hemal took his first flight at four years old and has been an avgeek since then. When he isn't working as an analyst he's frequently found outside watching planes fly overhead or flying in them. His favorite plane is the 747-8i which Lufthansa thankfully flies to EWR allowing for some great spotting. He firmly believes that the best way to fly between JFK and BOS is via DFW and is always willing to go for that extra elite qualifying mile.

Latest posts by Hemal Gosai (see all)