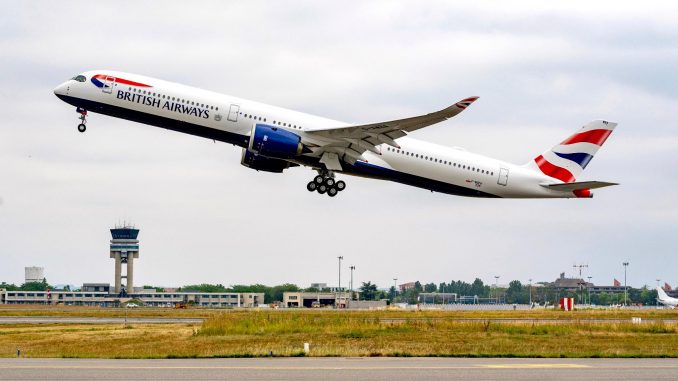 The first Airbus A350-1000 XWB for British Airways took to the skies over France for its maiden flight. The aircraft to be registered as  G-XWBA, though currently as F-WZFH while under Airbus testing, took off on Monday around 11:20 a.m. from Airbus' facility at Toulouse Blagnac Airport and underwent a 5-hour and 55-minute test flight.
The first delivery to British Airways is expected to happen in late July and will be the first of 18 the flag carrier ordered back in 2013. Deliveries of the next-generation aircraft are expected to occur until the end of 2022.
The A350 will also be the first aircraft in the fleet to feature British Airways' brand new business class seat, dubbed the Club Suite, offering lie-flat bed seats configured in a 1-2-1 arrangement. The new enclosed suite aims to replace the outdated 2-4-2 configured business seats currently used on all its long-haul aircraft, except the Boeing 787 Dreamliners and Airbus A318 that operates between London and New York.
The aircraft will have a layout including 56 Club Suite business class seats (Club Suite) and 56 World Traveler Plus premium economy seats and 219 World Traveler economy seats making up the total of 331 seats. British Airways expects the first four A350s to arrive before the end of the year. Once handed over, the aircraft will be deployed on the Heathrow-Madrid route to allow for crew familiarization prior to long-haul operations.
At the moment, the airline hopes to begin retrofitting its current fleet later this year beginning with the Boeing 777s as part of a plan to equip the remainder of the fleet over the next few years.
The aircraft will then begin overseas flights with Toronto becoming the first destination, operating as BA92/93, from Oct. 1. Service to Dubai will then follow from Oct. 8, operating as BA107/106, replacing the Boeing 777 used on the route.
The second Middle East destination the aircraft will operate to is Tel Aviv, beginning on Dec. 1 and operating as BA163/162. Finally, on Jan. 1, British Airways will fly the Dash 1000 to Bangalore as BA119/118.
British Airways will replace the 34 Boeing 747-400s it currently operates with the A350-1000 XWB as well as the 18 incoming 777X aircraft on order, with the 747 expected to leave the skies in 2024.
The airline also confirmed recently that the three 777-200s will be phased out by the end of the year, leaving behind 43 777-200ERs and 12 777-300ERs, with four yet to be delivered.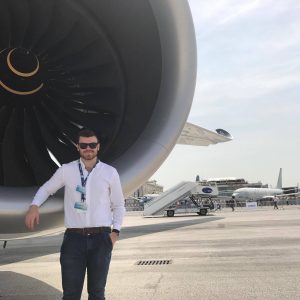 James is a keen aviation enthusiast from the United Kingdom. He has been flying since the age of 13 and today, aged 23, flies the Airbus A319/320 series for one of Europe's largest airlines.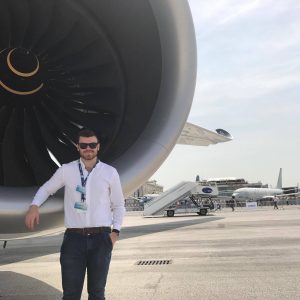 Latest posts by James Dinsdale (see all)