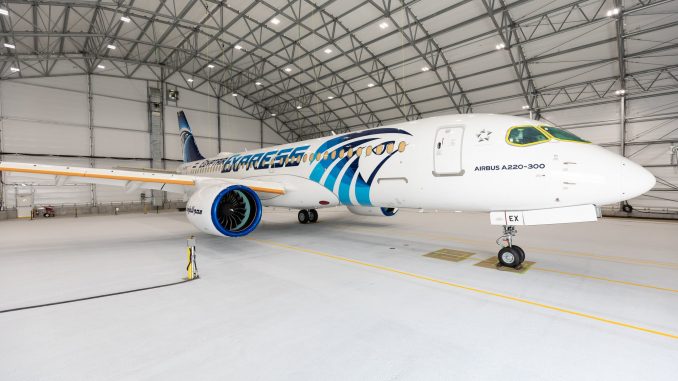 The first of 12 Airbus A220-300s that EgyptAir's subsidiary EgyptAir Express will receive has rolled out of Airbus' paint shop in Mirabel, Canada, as part of a fleet overhaul.
The order was made back in 2017 when the airline signed a Letter of Intent (LOI) with Bombardier Aerospace for 12 aircraft and another 12 as options.
Speaking during the signing, which took place at the 2017 Dubai Airshow, the then CEO of EgyptAir Holding at the time, Safwat Musallam, said: "We undertook a thorough evaluation process of our fleet and realized that the CS300 would fit perfectly into our business plans and growth strategy,"
"We selected the A220 (C Series) aircraft because its excellent range will allow us to best serve domestic and regional destinations, including neighboring Arab cities, the Middle East as well as several European destinations," he added.
The incoming aircraft will gradually replace the 12 Embraer 170LRs EgyptAir Express currently operates. The new jet will have a capacity for 126 passengers in a two-class configuration, whereas the outgoing Embraer fleet hs a capacity of 76, still in a two-class setup.
The new aircraft for the regional airline is part of an overall fleet upgrade for the whole airline group. Last month, EgyptAir took delivery of the first of six Boeing 787-9 Dreamliner aircraft. The 787 began operating for the carrier on June 3 on the three-times-per-week service from Cario to Washington, D.C.
EgyptAir will also receive up to 15 Airbus A320neos starting from 2020 and will phase out the four remaining A320ceos that currently fly for the flag carrier.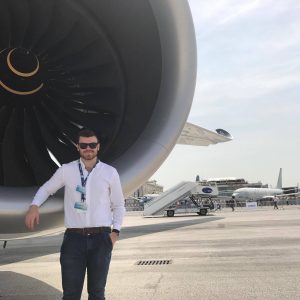 James is a keen aviation enthusiast from the United Kingdom. He has been flying since the age of 13 and today, aged 23, flies the Airbus A319/320 series for one of Europe's largest airlines.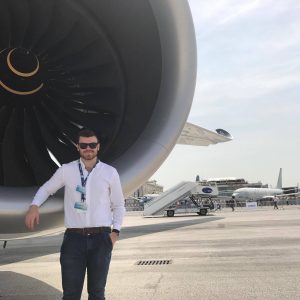 Latest posts by James Dinsdale (see all)