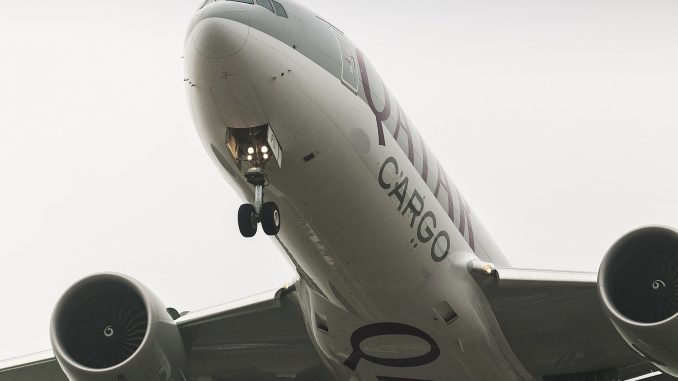 Qatar Airways finalized an order for five Boeing 777 freighters at a ceremony in held at the White House in Washington, D.C. President Trump was on hand to witness the parties sign the agreement. with both Sheikh Tamim bin Hamad Al Thani, the Emir of Qatar and Akbar Al Baker, CEO of the Qatar Airways Group also attending the ceremony along with Kevin McAllister, the President and Chief Executive Officer of Boeing Commercial Airplanes.
The aircraft are destined for Qatar Airways Cargo, the majority Boeing-operated freight division of Qatar Airways currently operating 16 Boeing 777Fs along with 2 Boeing 747-8Fs and 5 Airbus A330-200Fs. The cargo carrier's role grew drastically following the embargo of Qatar by neighboring Middle Eastern countries including Saudi Arabia, the United Arab Emirates and Bahrain.
In the aftermath of the geopolitical showdown, the airline credited its cargo division with helping mitigate the blockade's effects bringing much-needed resources to the country, surrounded on three sides by the blockading countries. The purchase of a second Boeing 747-8F was also said to be due to the blockade so that the airline could transport more supplies to the homeland.
The signing is certainly a positive moment for Boeing in light of the ongoing 737 MAX crisis. While Qatar Airways has favored Airbus within its own fleet, choosing types such as the A320 family of aircraft over the Boeing 737 and making the Airbus A350-1000 XWB its new flagship, the carrier does operate some of Boeing's newest aircraft such as the 787 Dreamliner.
"It is an honor to be signing this agreement today with Qatar Airways, who has been our long-haul partner for more than 20 years," said McAllister. "As one of the world's leading air cargo carriers, we are delighted that Qatar Airways continues to expand its freighter fleet with the 777 Freighter and we deeply appreciate their business and positive impact on Boeing, our employees, suppliers and communities."
The order, worth 1.8 billion dollars, began as a Memorandum of Understanding at the Paris Air Show last month. The additional five 777F's will allow Qatar to continue the expansion of its cargo operation which currently serves 60 freighter-specific destinations.
Qatar's cargo operation includes a robust array of offerings consisting of air freight service for healthcare and pharmaceutical products, perishable products, live animals, charter service and a product called QR express that allows customers to book time-sensitive shipments with a system that offers high boarding priority and rapid handling.
The 777F originally entered service in 2009 and is the largest twin-engine freighter in the world. According to Boeing, the type has the lowest trip cost of any large freighter while boasting a range of 4,970 nautical miles, a payload of 224, 900 pounds and a cruise speed of Mach 0.84.
As older cargo aircraft such as the Boeing 747-200 and McDonnell Douglas DC-10 reach retirement, the Boeing 777F is shaping up to be a popular replacement. As of last month, Boeing has received 219 orders for the 777F and delivered 166 777F's. The 777F is operated by cargo carriers worldwide including Qatar Airways Cargo, Lufthansa Cargo, FedEx and Korean Air Cargo, just to name a few.

Jordan joined the AG team in 2018 after attending AAviationDay in Philadelphia.He is actively pursuing his private pilot certificate and has been an aviation enthusiast since childhood.An attorney by trade, Jordan jokingly refers to himself as a "recovering litigator" and now focuses on subcontracts management.

Jordan focuses his writing on innovations in commercial aviation, aviation history, and other interesting topics he feels are worthy of discussion in the community.

Latest posts by Jordan Green (see all)