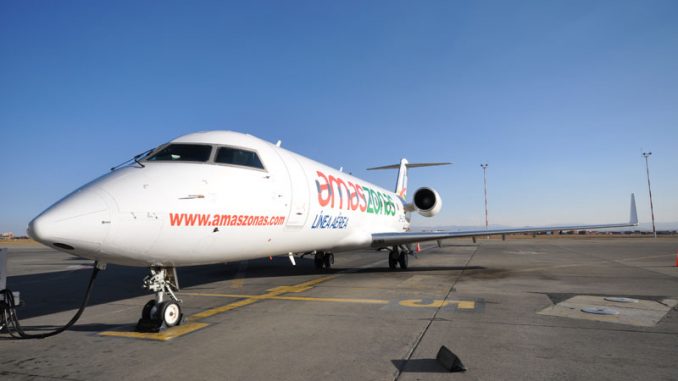 Bolivia has historically been one of the least developed aviation markets in South America. Having a low population density concentrated in a few major cities combined general poverty, it has previously been difficult to establish a recurring domestic customer base.
This has begun to change, with extreme poverty in the country declining massively in recent years. Little by little the Bolivian population is beginning to fly more and this will benefit Amaszonas Línea Aérea.
After a failed expansion in several South American markets, Amaszonas is reviewing its strategy and shifting its focus to growing markets in Bolivia. While previously the airline relied on Bombardier CRJ-200 aircraft to serve as a workhorse in regional operations in Chile, Paraguay and Uruguay, the airline's new plan is said to utilize first-generation Embraer 190 aircraft, which has more than twice the capacity of the CRJs.
According to an AeronáuticaPy report, the transition is expected to occur from Aug. 1.
AirlineGeeks had the chance to interview, through e-mail, Eddy Luis Franco, Amaszonas' manager for institutional matters. He said that "our vision is of contributing with a bigger quantity of touristic flow and to generate efficient touristic corridors in South America".
From the start, Amaszonas was known by its flights connecting the world to Bolivia's smaller touristic cities, such as Uyuni and Rurrenabaque. Such flights will continue with the Embraer, told Franco.
While Uyuni will begin operations with the E190 as soon as possible, "in Rurrenabaque we will operate with turboprop [Bombardier Q200] planes, until the runway expansion plan is finished in subsequent years."
Amaszonas focus relies on finding and developing market niches, as told by the manager. "In our business model we develop hubs, and nowadays we do it from Viru Viru Airport in Santa Cruz [de la Sierra] and La Paz in Bolivia, and we will resume the Montevideo hub in Uruguay, as well as we will create new hubs in other countries."
The plan seems to be well matured by the end of the year. According to Franco, "According to what we planned, there will be a gradual substitution of the CRJ-200 we have now by the Embraer 190. Until the end of 2019, we will incorporate 6 Embraer."
While larger versions of the Bombardier may seem a more obvious replacement than the E190, the manager said: "We have considered all options…our technical and commercial teams have found on the Embraer the best option for the routes and airports in which we operate."
In addition, the airline will begin rebranding itself and will also change its name. The process is led by Gianfranco "Panda" Beting, who is well known for developing the Brazil-based Azul's branding as well as David Neeleman's new startup airline Moxy. Beting published some sneak peeks of the new brand on his Instagram, highlighting a color scheme that will likely be featured in the airline's livery.
Apart from upgrading the already existent routes in Bolivia and in its Uruguayan branch from the CRJs to Embraer aircraft, the airline will also launch new routes. The first announced destinations include Rio de Janeiro and Foz do Iguaçu in Brazil, which will be connected to Santa Cruz de la Sierra hub.
"They'll be seasonal destinations," said Franco. "By now we can't inform on new destinations, but surely with the incorporation of the new fleet, we will get to other destinations in Brazil, always following our business plan."
Some routes, such as the "Puente Aéreo" between Santa Cruz de la Sierra and La Paz, are already being sold in Amaszonas' booking system as being operated by the E190s for future dates.
On the other hand, the other active branch of the group, Amaszonas Uruguay, had its expansion plans put on a hold for now due to the macroeconomic difficulties.
"Uruguay's neighboring countries, as Argentina, that passes through a complex economic situation and Brazil, which awaits for its economic recovery, haven't allowed us to develop it as we expected. Nevertheless, we still maintain this vision and think in 2020 our operations [there] will grow."
Amaszonas' third branch, in Paraguay, was separated from the group in 2018 and now operates as Paranair, owned by the Canadian group AVMAX and the Spanish ILAI, which owns Air Nostrum.
Finally, Franco mentioned plans for opening a new subsidiary of the group in Brazil. "In Brazil, we are currently in the process of certification of a new airline. We estimate we can start operations in the first semester of 2020."
According to Airfleets, there are two Embraer 190 already in South America in preparation for delivery to Amaszonas. While the previous growth plan with the high fuel-consuming Bombardier CRJ-200s may have gone wrong, Amaszonas' hopes are high, and maybe with a new aircraft and a new brand, the airline can gain new customers and grow traffic in the South American market.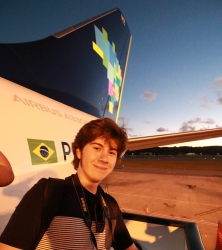 João has loved aviation since he was six-years-old when he started visiting his home airport in Porto Alegre, southern Brazil. As he always loved writing, in 2011, at age 10 he started his very own aviation blog. Many things have happened since then, and now he is putting all his efforts into being an airline director in the future.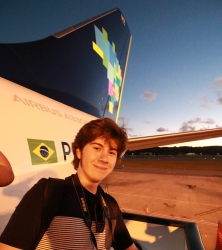 Latest posts by João Machado (see all)