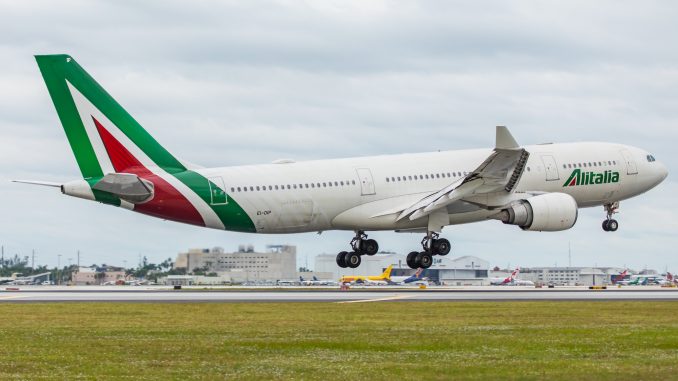 The never-ending saga of ailing carrier Alitalia seems to be close to a new chapter. On Monday, the now-majority stakeholder Ferrovie dello Stato (the Italian state railway company) held a Board of Directors meeting to choose among the four non-binding offers that were received for a 40 percent stake in the new Alitalia. Ferrovie dello Stato owns a 35 percent, with the Italian Ministry of Economy maintaining a further 15 percent and Delta Air Lines providing technical expertise with a minority 10 percent stake.
"The Board of Directors of Ferrovie dello Stato Italiane identified Atlantia as the partner to work alongside Delta Air Lines and the Ministry of Economy and Finance on the Alitalia operation," the railway company said in a statement. Atlantia is a holding company operating the Italian motorway network as well as the two airports in Rome, Fiumicino and Ciampino, and a few other airports in France. The main shareholder of the company is Edizione,  which is a part of the Benetton Group.
Atlantia's non-binding offer was selected over the other competing offers by Claudio Lotito, the President of Serie A's soccer team Lazio, the Toto Group and German Efromovic, former owner of Avianca. Atlantia is currently embroiled in a controversy with the Italian Government following the collapse of a motorway bridge in Genoa in August 2018 that caused 43 deaths.
The next phase of the process will require Atlantia to present a binding offer by next September so that it can be evaluated and eventually approved by Ferrovie dello Stato.
According to Italian newspaper Corriere della Sera, the business plan for the new Alitalia will start from a draft already prepared by advisors Oliver Wyman, McKinsey and Ernst & Young. This plan would see the Italian flag carrier develop its hub in Rome Fiumicino and a focus airport at Milan Linate thanks also to the introduction of a true business class on short-haul aircraft to target premium passengers. Milan Malpensa airport will not be central to this strategy and the company will spend 60 million Euros to re-acquire slots at London Heathrow.
Domestic routes in Italy will decrease, pushing passengers to the existing high-speed railway network, and the focus will shift to Europe and North America. New flights from Rome Fiumicino will be added to San Francisco (April to October) and Shanghai, China, but existing connections to Santiago, Chile, Johannesburg, South Africa and Delhi, India will be terminated.
The new Alitalia will target higher yields focusing on providing more frequencies from Milan Linate to main European business destinations: this will entail the closure of at least 15 unprofitable routes from the airport, since there are no further slots available. Aircraft will be configured and the fleet will be slightly reduced from 117 aircraft to 109.
In the period through 2023, the company will invest 977.7 million Euros, of which 726.8 million will be dedicated to maintenance and fleet renewal, says Italian financial newspaper Il Sole 24 Ore. The phasing in of new aircraft configurations (more business and premium economy seats on long-haul aircraft and a true business class on short-haul flights).
The existing fleet of 117 aircraft will be reduced to 102 in January 2020, then it will increase gradually through the lease of seven A319s, six A321s and three 777-200 aircraft.
Vanni fell in love with commercial aviation during his undergraduate studies in Statistics at the University of Bologna, when he prepared his thesis on the effects of deregulation on the U.S. and European aviation markets. Then he pursued his passion further by obtaining a Master's Degree in Air Transport Management at Cranfield University in the U.K. followed by holding several management positions at various start-up carriers in Europe (Jet2, SkyEurope, Silverjet). After moving to Canada, he was Business Development Manager for IATA for nine years before turning to his other passion: sports writing.
Latest posts by Vanni Gibertini (see all)