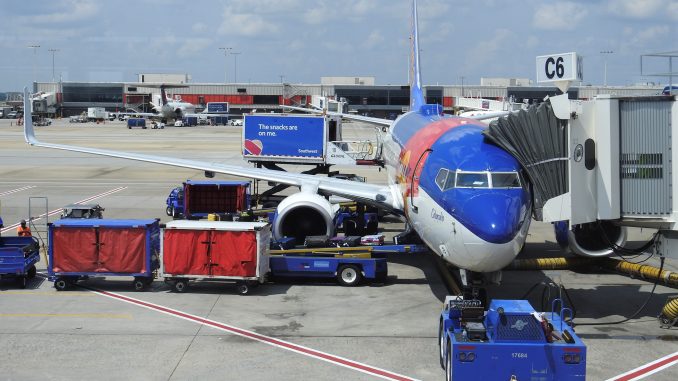 While airline announcements ring in at every major air show this summer for new aircraft that will join the fleet, this equipment alone will not get your or your bag from destination to destination as efficiently as one may think.  What lies beneath these million-dollar machines, literally, is the quietly competitive and ever-evolving market of airport service vehicles through just three small pieces of the bigger scene: baggage tractors, baggage carts and belt loaders.
Textron GSE/TUG Technologies
The largest provider of baggage tractors is Textron Ground Support Equipment and subsidiary TUG Technologies. The company claims that through Textron and TUG, it has a combined history of 150 years of making ground support vehicles. Due to the longstanding history and reliable equipment, it is common to find TUG labeled aircraft handing around most if not all commercially operated airports across the country.
The company's most popular design is the TUG MA, whose various types of engines gives the tractor a 3,000 to 6,000-pound drawbar pull. Textron offers five engine types for the vehicle with a Ford DSG-425EFI Gasoline, a Perkins D2011, Deutz D2011, Deutz D2.9L,and Kubota WG2503, with these propulsive units varying between diesel, ultra-low sulfur diesel and gasoline and having different EPA emissions standards. The TUG MA comes with a 15-mph governed speed, a length of 120 inches and is often modified to include a closed cab configuration.
But the TUG MA is not the only tractor made by Textron, the company also builds the TUG MT, TUG MH, TUG M7 and TUG MR. The TUG MR and TUG MT are both much beefier than the MA with four-wheel drive suspensions, larger engines and a wider wheelbase to provide a drawbar pull between 8,000 and 12,000 pounds.
The TUG MH fills the void in drawbar pull between the three previously mentioned designs but stands out due to its addition of a cargo bay behind the driver's cab for additional storage. Alongside being used as a baggage tractor, the TUG MH can be used by maintenance crews due to the ability to store tools and parts in the cargo space. Similarly, the TUG M7 has the rear storage area but is 38 inches shorter than the MH and is only available with an 80V Curtis Motor Controller. All four non-MA models have the option for close cab configurations.
Textron is also responsible for one belt loader in the TUG 660 and 660E. The two variants of the same design give consumers the opportunity to select between diesel, gas, Jet-A, liquified petroleum gas or an 80V battery. Due to their similarities, both come with the same conveyor belt speed of 45 feet per minute to 90 feet per minute and a similar conveyor belt capacity of 2,000 pounds.
Harlan Global
Originally launched in 1962 as a forklift repair company, Kansas City-based Harlan Global has also become a recognizable name in the tractor business. The company claims that its tractors have been utilized at docks, airports and warehouses across 80 countries.
While its equipment may be used outside of their airport, the company's most commonly spotted airport model is Classic Model HT. The 112-inch long tractor comes with engine options for diesel, gasoline and liquified petroleum gas that create a drawbar pull between 3,000 and 6,000 pounds.
In addition, Harlan Global has produced many other tractors besides the Classic Model HT, including the Trans-Con Model HTSBAPV, the Charger Electric HLE, Trans-Con Model HTSB, Trans-Con HTSBEL and Classic Cargomaster Model HT. The Classic Cargomaster Model HT has seen some use at airports as a pushback tractor thanks to its 10,000-pound drawbar pull.
Charlatte America
Launching service in the United States in 1993 as a branch of its French parent company, Virginia-based Charlatte America is now the leading creator of battery-powered airport vehicles. Despite the large push in battery-powered vehicles, Charlatte America also comes with petroleum-powered tractors such as the CT5G.
The airline support vehicle offers both 2.8L Zenith ZPP428 and 2.5L Ford MSG425 engine types that both provide a 5,000-pound drawbar pull. The tractor has a 108-inch length and much like the other types listed also comes with the option for both open cab and closed cab configurations. The company mentioned that it is also working on a diesel version of the CT5G, which is due to enter the market soon.
As for Charlatte America's electric tractors, the company currently has three units on offer: the CT5E, the T137-V3 and CFB2000. The CFB2000 and T137-V3 are both similar in the fact that they both have closed cabs and rear cargo bays but have different drawbar pulling weights. For the T137-V3, the draw pull is only 4,000 pounds, much lower than the CFB2000 which comes with a listed towing capacity of 17,600 pounds.
Similarly named to the CT5G, the CT5E cargo tractor has many interior components to that of the gasoline-powered model but comes with a 5,000-pound drawbar pull. The 22 kW AC-motor driven model is longer than the CT5G, being a total of 116 inches long.
Charlatte America also comes with its own belt loaders too, with two base models in the CBL150 and CBL2000 coming with both fossil fuel-powered and electric models. The CBL2000 comes with the more maneuverable boom, rising anywhere from 40 inches to 172 inches. Meanwhile, the smaller CBL150 has the ability to rise to meet aircraft doors between 36 inches to 130 inches off the ground.
TLD Group
While not as well known for its baggage tractors in the United States, Tissmétal Lionel-Dupont, later named Teleflex Lionel-Dupont and abbreviated TLD Group, originated in France in 1897 as a silk weaving company. Over the years the company would switch and get into the metal crafting industry including making machinery like ground support equipment. The French brand became a key player in the European market and in the 1990s would acquire TRACMA and ALBRET to start operations in the aircraft ground handling business. At the same time, TLD bought U.S.-based DEVTEC Corp and Lantis Corporation to start operations in the United States.
The company's best-selling baggage tractor is that of the JCT-Series, which, like its competitors, comes with multiple engine models and a drawbar pull that ranges from 6,700 pounds to 9,600 pounds. The company prides the design on being simple, reliable and able to withstand severe weather as well as meeting European Tier 3 and 4 emission standards.
The French company is also responsible for two additional baggage models in the JET-16 and JST-Series. Both models are smaller than the JCT-Series, with the JST-Series having a drawbar pull between 4,400 pounds and 6,600 pounds while the JET-16 drawbar pulls the least with a range between 3,600 pounds and 4,500 pounds. The JET-16 is also an open trailer, competing with models like the TUG MH and Charlatte CFB2000 and T137-V3.
The company also provides a trio of belt loaders which are produced in Canada with the RBL, NBL, and NBL-E on the market. While frames are similar in design to provide maximum driver comfort, the RBL's low boom height means that it can only service narrowbody aircraft and smaller. Meanwhile, the NBL and NBL-E are built to service any cargo doors on any aircraft on the market.
The Baggage Cart Competition
It's not only the tugs that create competition as the baggage carts themselves brings new faces into the market as a three-way duel between Fast Global Solutions, Clyde and Par-Kan leaves them taking a large portion of the market share. All three companies provide rectangular closed in baggage carts in the FAST Enclosed Cart, Clyde Model 15F3400 and Par-Kan CBC5010. All models are similar in design as specifications with all three models holding 8,000 pounds of cargo and have a length within 5 inches of 140 inches long.
Outside of the standard enclosed cart, all three providers also offer open and knockdown carts. Open carts are often seen tacked on to a chain of closed carts, usually for transfer bags or as overflow from the closed carts. Knockdown carts, on the other hand, are more flexible in storage and transportation since they can be disassembled and stacked for transport.
While these companies come with their own variants, Par-Kan does stand above the rest in offering unique items that its competitors don't touch. One of these is the HR5010, titled the "Humans Remains Cart", which serves the purpose of transporting fallen military or civilian members that are transported by airline. The cart's height is ten inches shorter than the CBC5010 but comes with rear boarding doors, roller floors and a locking mechanism to make sure the casket does not move during transport. The entire structure is enclosed, with tarps extending from each side to assist with locking the load at the center of the vehicle.
Though this list might seem exhaustive, this is just a few of the companies serving a very large industry. These brands might also appear on other vehicles such as towbar-less and conventional aircraft tractors, loaders, air starters, ground power units, stairs and stair trucks, trailers and dollies, lavatory trucks, catering trucks and deicing trucks. As one venture through the world's airports, one will encounter other brands in different specialties or domestic brands tied to specific countries such as JBT, Trepel, Mulag and MAFI.
While your aircraft might come from Seattle, Toulouse or Wichita, your onboard food or bags might come on a vehicle that was built a little closer to home.
Although Ian McMurtry was never originally an avgeek, he did enjoy watching US Airways aircraft across western Pennsylvania in the early 2000s. He lived along the Pennsylvania Railroad and took a liking to trains but a change of scenery in the mid-2000s saw him shift more of an interest into aviation. He would eventually express this passion by taking flying lessons in mid-Missouri and joining AirlineGeeks in 2013. Now living in Wichita, Kansas, Ian is in college majoring in aerospace engineering and minoring in business administration at Wichita State University.
Latest posts by Ian McMurtry (see all)