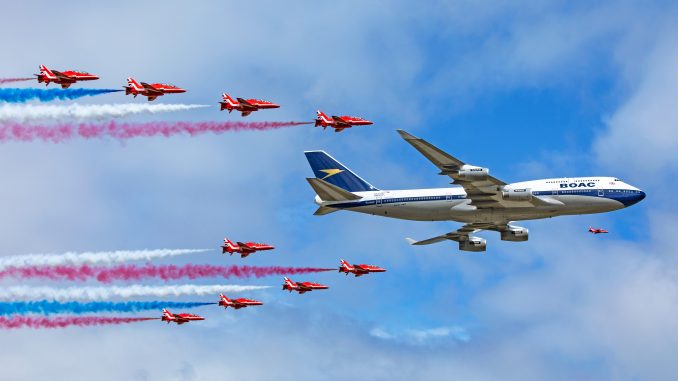 British Airways continued their centenary celebrations with a flypast during this year's Royal International Air Tattoo. The 100th year since the origin of the United Kingdom's flag carrier has seen special events and occasions to mark the landmark year, including four aircraft being repainted in retro liveries.
One of these aircraft, a Boeing 747, repainted in the airline's predecessor British Overseas Airways Corporation (BOAC) paint scheme was flanked by nine Royal Air Force Red Arrows BAE Systems Hawk T1s.
The flight, operating under the callsign BA100, was flown by Captain Richard Allen-Williams and Senior First Officer Tom Perrins. Also present in the flight deck was Captain Somin Scholey and Captain Jonny Lutton.
Captain Allen-Williams stated in a press release, "We hope the sight of our BOAC liveried Boeing747 provided a wonderfully nostalgic moment for the Air Tattoo audience today. It was a huge honour for us to fly alongside the Red Arrows at RAF Fairford and to do so in our centenary year is even more special."
The 747 took off from Heathrow Airport just after 11:00 a.m. local time and flew to a holding pattern near RAF Fairford, the airshow location, and formed up with the Red Arrows before conducting two flypasts in front of the show's spectators. Normal business resumed shortly after returning to Heathrow, with the aircraft operating the BA293 to Washington Dulles that evening.
Although the 747 had no passengers on board, there were a few lucky people to have a window seat during the spectacle. One of these was BA cabin crew member Julia Lowes, her brother Flight Lieutenant Daniel Lowes flies for the Red Arrows and was operating Red 9 in the flypast.
A few more from today's display, taken by a variety of people from the team. I've had worse days at work. Looking forward to visiting #RIAT19 tomorrow. #BA100 @rafredarrows @RAFRed1 @British_Airways @airtattoo pic.twitter.com/FDTIQReaL3

— Jonny Lutton (@JonnyLutton) July 20, 2019
This isn't the first time British Airways has conducted a flypast at the airshow. In 1985 one of the airline's Concorde aircraft flew in formation with the Red Arrows. More recently an Airbus A380 also formed up with the Red Arrows back in 2013.
The Royal International Air Tattoo is the world's largest military airshow held annually in the United Kingdom, up to 150,000 spectators visit during the weekend event at RAF Fairford.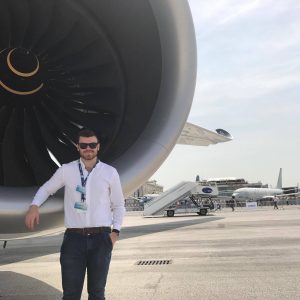 James is a keen aviation enthusiast from the United Kingdom. He has been flying since the age of 13 and today, aged 23, flies the Airbus A319/320 series for one of Europe's largest airlines.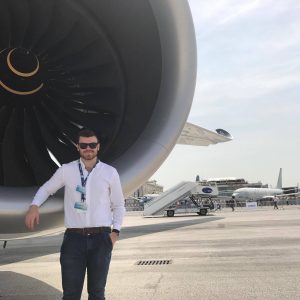 Latest posts by James Dinsdale (see all)