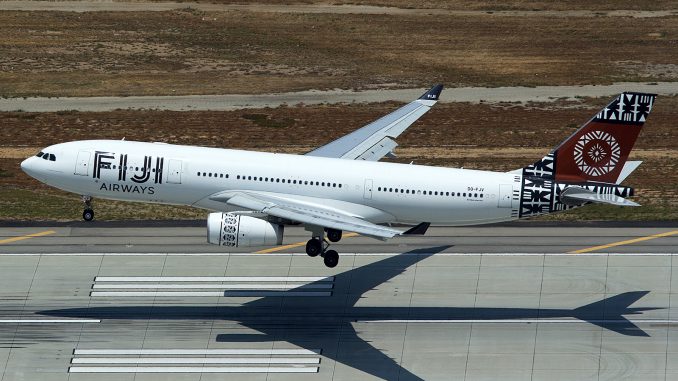 Fiji Airways has announced that its premium cabin passengers will now have the option to receive their meals before they board.
In what is called the Dine of the Ground program, meals will be served to passengers taking morning and evening flights in and out of Nadi, Fiji to allow passengers to rest while traveling.
According to the airline, a study was performed in which 31 percent of Australian passengers opted for rest over eating in-flight meals. This led to 38 percent of food being discarded after flights.
The airline also studied food consumption and sleep patterns of its passengers before developing the new program.
"While the inflight experience has improved dramatically over the years across all airlines, the way in which food is served hasn't changed too much," said managing director and CEO, Andre Viljoen.
The meals that will be served to passengers will be replaced with lighter options compared to most premium cabin meals. Light options onboard such as fruit bowls, sandwiches, salads, and tapas will be served.
"By moving the dining experience pre-flight, we're not only able to offer a premium experience but we're also able to reduce food waste while maintaining our excellent in-flight catering," added Viljoen.
The airline also used research and information from health and wellness experts to offer the new program, citing that many passengers suffer from sleep issues because food is difficult to digest while traveling. According to the experts, eating before the flight will allow enough time for the food to digest and will make for a more comfortable traveling experience.
Earlier this year, United Airlines tested a new meal service on its transatlantic flights to also allow premium cabin passengers longer rest during flights. However, United's approach differed in that passengers were still offered meals onboard the flight but were given all the courses at once, rather than in separate parts. This also involved United removing its dessert cart service and delivering individual desserts to passengers who were still awake.
An "AvGeek" for most of his life, Akhil has always been drawn to aviation. If there is an opportunity to read about an airline, fly on a new airplane, or talk to anyone about aviation, he is on it. Akhil has been on over 20 different kinds of aircraft, his favorite being the MD-80. Additionally, he has visited 5 continents and plans to knock out the remaining two (Africa and Antarctica) soon. Based in Dallas, Akhil graduated from Texas A&M University with a degree in Management Information Systems and currently works in consulting. His dream is to become an airline executive.
Latest posts by Akhil Dewan (see all)