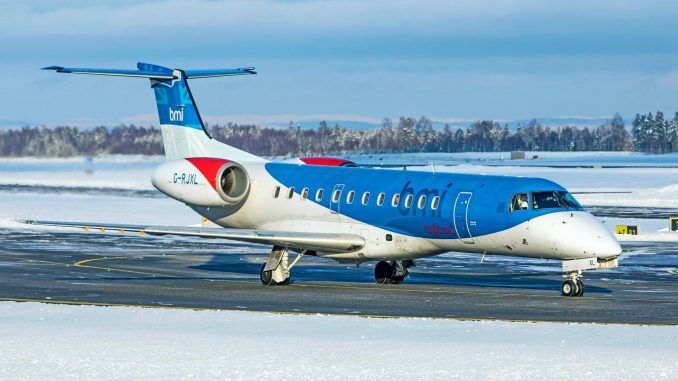 Although the 50-seat jet market is often criticized for small aircraft, uncomfortable rides and some obnoxiously long routes, these aircraft variants have sold quite well. One of the best selling 50-seat aircraft, the Embraer ERJ-145, has seen over 1,000 units built. However, the smallest version of this aircraft, the Embraer ERJ-135, has become increasingly rare in commercial aviation.
Being over 10 feet shorter than the ERJ-145, the ERJ-135 was built with the sole purpose of being used for airlines who needed aircraft for markets not even justifying 50 seats, with the model having just 37 seats. The aircraft would be offered in two types: the original extended range version and a long-range version with an upgraded Rolls-Royce AE 3007 engine for increased range.
The aircraft lagged behind the larger family members in every category except for range. The long-range variant of the aircraft held best in family distance at 1,750 nautical miles before the ERJ-145XR would later take that title with a 2,000 nautical mile range.
While the smaller model was far behind the sales of the largest aircraft type, the aircraft still gained quite the attraction with big named airlines like BMI, American Airlines, Continental Airlines and Air France all having their names or the names of their regional branches emblazoned across the fuselage. The first ERJ-135 would roll off Embraer's Brazilian factory line in Aug. 1999 as MSN145145 and would be delivered to American Eagle Airlines, the regional branch of American Airlines, as N700LE.
The commercial aircraft's usage, however, would be deeply disturbed by the financial fallout of the global recession of 2008. As a result, operators would turn to reducing the number of less profitable aircraft. Seeing how small the profits were on 37-seat regional jets, the ERJ-135 was on the chopping block despite some models being less than 10 years old.
By 2012, Air France's regional carrier Régional, Luxair, Continental's fleet with ExpressJet and American Airlines' regional American Eagle and American Connection fleet had all phased out the ERJ-135 as airlines looked for a way to return to profitability. United would bring back some ERJ-135s in the years following to quickly meet demand but these frames would be sold off by 2019.
While the mainline airlines ditched the aircraft, it has also seen smaller stints at some lesser-known carriers too. Chautauqua Airlines, a former regional airline, had a small fleet of Dash 135s that were used for Midwest Airlines flights while the leftovers from other airline's fleets would help expand both FlyMex and JetGo Australia's operations before they either collapsed or moved on to different aircraft.
Despite losing most of its major sponsors, the Embraer product continued to survive and other products stepped up in place of the ERJ-135s lack of use. The aircraft is still being produced but as an ERJ-135 Legacy, a private aircraft tailored for business travelers and tend to be expensive for the traditional flyers to gain access to.
There are over 200 Legacy aircraft still airborne and flying at the time of writing. Alternatively, some companies have also converted old commercial models of the jet into business aircraft, including larger American companies like Menards and ConocoPhillips.
As for the general flying public, the mix of an affordable ticket and the luxury of a business aircraft style has been achieved thanks to the ERJ-135s that were left behind by ExpressJet and American Eagle. Carriers like OneJet and JetSuiteX have used the Embraer aircraft as a way increase their footholds and become known for their spacious aircraft and premiere services. While OneJet collapsed in 2018, JetSuiteX launched operations in April 2019 and currently uses 13 30-seat ERJ-135LRs to operate flights across Arizona, California, Nevada and Washington.
As for the previously used OneJet ERJ-135, it found a new home alongside multiple other ex-ExpressJet models at Contour Airlines. Currently, Contour operates a fleet of 11 aircraft mixed between the ERJ-135LR and ERJ-135ER models. The airline, who is a subsidiary of Contour Aviation, operates Essential Air Service routes across the United States with destinations ranging from California to Missouri to West Virginia.
Outside of the United States, the aircraft has still retained use in Africa, where airlines have taken advantage of larger carriers storing the sometimes ten-year-old aircraft. The main two carriers of the aircraft are Air Namibia and South African Airways' regional carrier Airlink who have a combined fleet of 20 aircraft.
With 17 aircraft still active, 16 being ERJ-135LRs, the Airlink Embraer fleet has been the core of the regional carrier's fleet for nearly two decades now. South African Airlink received its first five ERJ-135s in 2001 before expanding the fleet using used frames from U,S, carriers like Chautauqua and American Eagle. The airframe makes up the largest portion of the Airlink operated craft, with the 17 planes making up nearly 30 percent of the fleet.
Much like Airlink, the Air Namibia fleet has a history that dates back to a previously owned airline. The flag carrier's airframes were originally used by Régional before starting their stint in Africa. With four aircraft in the fleet by the end of 2011, Air Namibia placed the Embraer product on regional operations with flights to domestic cities like Luderitz, Oranjemund, Ondangwa, Rundu, Katima Mulilo and Walvis Bay from the airline's hub in Windhoek.
Outside of the two main carriers, the aircraft is utilized by smaller airlines in Africa like Equaflight of the Republic of Congo and Cronos Airlines of Equatorial Guinea. Equaflight would acquire its single Embraer model from Régional in 2012 while Cronos would start ERJ-135 three years later when it would infuse two ex-American Eagle models into its fleet. Both airlines use their aircraft on both domestic and international flights to neighboring countries.
These 47 active models across North America and Africa account for all but four of the currently flying commercial ERJ-135 fleet. The last four active airframes can be found in Scotland as part of Loganair's active and expanding fleet. The airline took hold of its first ex-BMI Regional model in 2018 as the regional carrier was suspending operations.
This acquisition of aircraft allowed the airline to add three more airframes in early 2019 to go alongside its already existing regional aircraft of Saab 2000s, Saab 340s, Britten Norman Islanders and De Havilland Twin Otters.
While the list has grown short and any AvGeeks seeking to cross the ERJ-135 off the list must now track down more uncommon opportunities to do so, the aircraft still serves a purpose as both a luxurious business jet and a regional jet for airlines.
Although Ian McMurtry was never originally an avgeek, he did enjoy watching US Airways aircraft across western Pennsylvania in the early 2000s. He lived along the Pennsylvania Railroad and took a liking to trains but a change of scenery in the mid-2000s saw him shift more of an interest into aviation. He would eventually express this passion by taking flying lessons in mid-Missouri and joining AirlineGeeks in 2013. Now living in Wichita, Kansas, Ian is in college majoring in aerospace engineering and minoring in business administration at Wichita State University.
Latest posts by Ian McMurtry (see all)