After months of lobbying, discussions and even open verbal fights in the media, Azul finally announced the opening of sales for their operations in the Rio/Santos Dumont-São Paulo/Congonhas "Ponte Aérea" sector, Brazil's most desired route. This comes less than two weeks after the distribution of Avianca Brasil slots in Congonhas Airport (CGH), which granted the airline 15 new daily slots.
Azul will start the route with a high number of 17 daily operations in each direction, and flights are set to start onThursday, August 29. For now, flights will be operated by the Embraer 195, which can transport 118 passengers.
John Rodgerson, Azul's CEO, stated in a press release that "breaking the [Gol and LATAM] duopoly in this market is just the first stage of what we believe is the best for the consumer and for the industry. When we promote the competition, we bring benefit to the industry and for those who fly."
The "Ponte Aérea" (translating to "air bridge" in Portuguese) has such importance because it connects the central airports of the two largest cities in Brazil, being the route with the most corporative traffic in the South American continent.
However, once Congonhas had massive slots restrictions, it prevented competitors to start profitable operations on the route and competition with GOL, LATAM and, until months ago, Avianca Brasil. This created a curious situation: although Azul had almost 20 percent of domestic market share in August 2018, the airline held only five percent of the slots in Congonhas.
The last slot distribution took place in 2014, when Azul was granted 26 slots, which means they could operate 13 roundtrips to Congonhas a day. At the time they didn't consider this a sufficient number to operate an air shuttle to Santos Dumont airport.
Such an opportunity came with the Avianca Brasil crisis. The bankruptcy of the rival airline meant their slots would be distributed to other carriers. After a long discussion, ANAC, the National Agency for Civil Aviation, decided three airlines could receive the slots: Azul, Passaredo and MAP.
However, Azul is still fighting for the slots granted to MAP and Passaredo. These airlines will operate in the airport with ATR turboprops, which according to the airline, shouldn't be operating in such a restricted airport due to its slow approach speed. Rodgerson said to O Estado de São Paulo that these aircraft should operate on the smaller runway, not on the main one.
In one way or another, though, from the start of the shuttle service Azul will benefit from a restriction imposed by Infraero, a state-owned company which owns Santos Dumont (SDU) airport. Renovation works will close SDU's main and largest runway from August 24 to September 21. This will force GOL and LATAM to transfer all their operations to Galeão Airport, which is far from downtown and hence less attractive to the corporate passenger.
Once Azul has the smaller Embraer 195 in its fleet, they will be able to operate the prized route alone from the start, which will be a good way to begin in such a disputed market.
The Embraer 195 has a higher cost per seat when compared to the A320s and 737s that their competitors have. So when the operations in Santos Dumont go back to normal, Azul will be at a disadvantage. O Estado de São Paulo also reports that Azul plans to start operating with the A320neo on the route from October.
Azul has already announced promotional and inaugural fares. According to Valor Econômico, a research by the travel website Kayak pointed out that fares on the "Ponte Aérea" have dropped 42 percent on the São Paulo to Rio leg and 33 percent in the Rio to São Paulo sector. It will be interesting, then, to watch how LATAM and GOL will further react to the entrance of Azul in the most premium market of the country.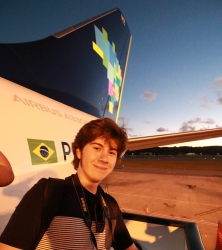 João has loved aviation since he was six-years-old when he started visiting his home airport in Porto Alegre, southern Brazil. As he always loved writing, in 2011, at age 10 he started his very own aviation blog. Many things have happened since then, and now he is putting all his efforts into being an airline director in the future.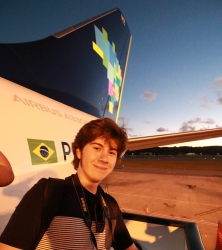 Latest posts by João Machado (see all)