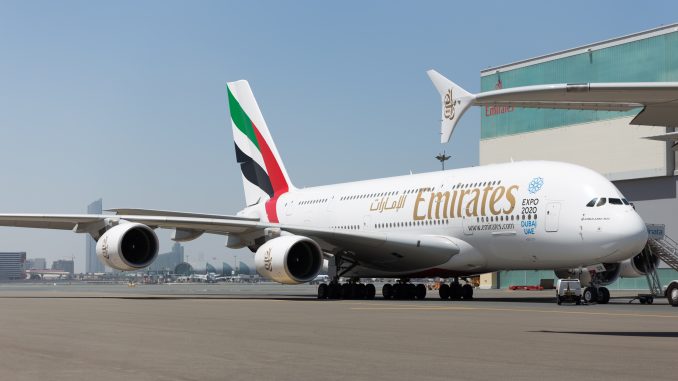 Dubai-based Emirates is currently investigating an incident in which one of its Airbus A380s was damaged during routine maintenance.
The incident, which occurred on August 20, happened during an A-check at the airline's maintenance hangar in Dubai. A-checks are performed every 400 to 600 flight hours and are usually lighter checks, such as filter changes, lubrication of key hydraulic systems, and inspection of emergency equipment.
Emirates has not disclosed details as to what specifically caused the incident but has said that it was an accident and that no one was injured.
According to images and videos on social media, the aircraft seems to have dropped to the ground and is shown resting on open gear doors. The radome of the aircraft has also separated from the aircraft and the gear doors have suffered extensive damage.
No details about when and which aircraft, but this @emirates A380 fell hard on its nose. Door 1 Left seems missing.
Pic found by @vhaq_aero. Any more info? pic.twitter.com/ZNgtNxWuGy

— A380 fanclub (@a380fanclub) August 23, 2019
"We are investigating the cause internally. Safety is our number one priority, and we follow stringent safety and technical standards," said Emirates in a statement to Flightglobal.
A likely cause of the incident could be that the aircraft slipped off a hydraulic-powered jack, resulting in the damaged nose and crushed landing gear. Rumors have also been circulating that the incident was caused by the raising of the aircraft's landing gear while a pin was not in place. A landing gear pin is used to prevent the landing gear from retracting on accident and is used as an additional safety feature while the aircraft is on the ground. Landing gear pins are typically removed by flight crews during pre-flight inspections.
The aircraft, registered A6-EOP, was built in 2015 and has had no previous incidents in its service with the airline.
It is worth noting that Emirates has only suffered one hull lose incident since commencing operations in 1985.
An "AvGeek" for most of his life, Akhil has always been drawn to aviation. If there is an opportunity to read about an airline, fly on a new airplane, or talk to anyone about aviation, he is on it. Akhil has been on over 20 different kinds of aircraft, his favorite being the MD-80. Additionally, he has visited 5 continents and plans to knock out the remaining two (Africa and Antarctica) soon. Based in Dallas, Akhil graduated from Texas A&M University with a degree in Management Information Systems and currently works in consulting. His dream is to become an airline executive.
Latest posts by Akhil Dewan (see all)