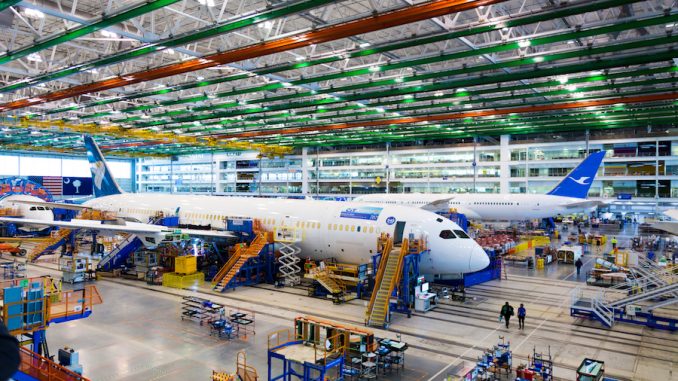 Adding to its current fleet of only three aircraft, South Korean hopeful Air Premia has announced an order for five Boeing 787-9 Dreamliners to aid in its low-cost ambitions. The airline, who already has a deal with Air Lease Corporation for three Dreamliners, sees the aircraft as necessary for its expansion plans.
The upstart is looking to start operations in September 2020 utilizing the leased aircraft at its initial launch. The five ordered models will join the fleet in pairs in the years following the carrier's launch.
Air Premia plans to be a hybrid carrier, offering a low-cost, high-quality economy airline that would compete on medium-to-long-haul operations from Seoul's Incheon Airport. The airline plans to operate a two-class configuration with premium economy and economy classes offering more room for passengers than would be found on South Korea's dominant long-haul carriers, Asiana and Korean Air.
While the seat map is not yet available for the soon-to-be carrier, Air Premia claims that its premium economy seats will have 42 inches of pitch and economy seats 35 inches of pitch. The airline says this will be the first time a premium economy seat will be offered on a Korean airline.
Interested in widebody jets, Air Premia has plans for longer operations from the Korean Peninsula with first destinations including Vietnam and Hong Kong. If the launch is successful, the airline plans for North America to join soon after with Los Angeles, Honolulu, Vancouver and the San Francisco Bay Area being scouted for landing points. Should the startup brand find fruitful profits, the plan is to have at least 10 Dreamliners in the fleet by 2025 flying to destinations across Asia, North America and Europe.
Talking about what the plane means to Air Premia, CEO Peter Sim stated, "This is an exciting decision for Air Premia as we look to deliver a world-class experience to our customers, while also operating the most fuel-efficient fleet."
"With the 787-9's superior fuel efficiency and range capabilities, this investment fits perfectly with our unique business model and will position Air Premia for sustainable long-term growth."
Medium-to-long-haul startups have been a common theme in Asia, with carriers like Scoot, Jetstar and Air Asia X find success in the long-haul market at the beginning of the decade utilizing fleets consisting of Dreamliners and Airbus A330s. Depending on Air Premia's destinations, the carrier will have to compete in the domestic scene with the legacy carriers of Asiana and Korean Air, the legacy carrier's subsidiaries in Jin Air, Air Busan and Air Seoul and low-cost airlines such as T'way, Eastar Jet and Jeju Air.
The airline began its quest for certification back in 2017 and is well on its way to launching service after receiving its Air Carrier License from South Korea's Ministry of Land, Infrastructure and Transport back in March.
Although Ian McMurtry was never originally an avgeek, he did enjoy watching US Airways aircraft across western Pennsylvania in the early 2000s. He lived along the Pennsylvania Railroad and took a liking to trains but a change of scenery in the mid-2000s saw him shift more of an interest into aviation. He would eventually express this passion by taking flying lessons in mid-Missouri and joining AirlineGeeks in 2013. Now living in Wichita, Kansas, Ian is in college majoring in aerospace engineering and minoring in business administration at Wichita State University.
Latest posts by Ian McMurtry (see all)