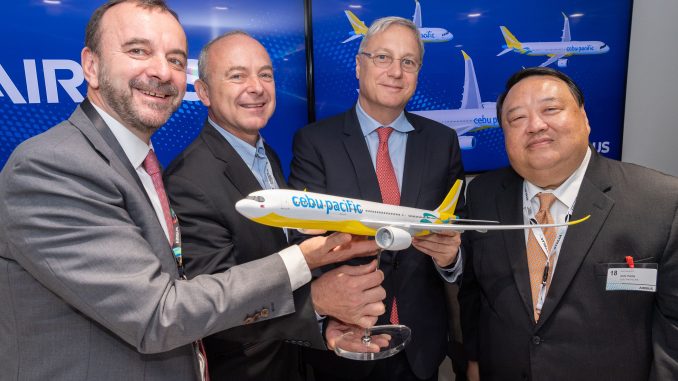 On Monday, Airbus announced that Philippine carrier Cebu Pacific signed a firm order for 16 of their A330neo widebody jets. The deal is valued at $4.8 billion and represents the widebody portion of a Memorandum of Understanding signed by Cebu Pacific and Airbus at the Paris Air Show in June of 2019.
Cebu Pacific currently operates a fleet of  74 aircraft, consisting of both Airbus aircraft and ATR aircraft. The order for the 16 A330neos adds to Cebu Pacific's continuing fleet expansion.  According to Cebu Pacific, it will take delivery of 31 more Airbus A321neos, five A320neos, and four ATR 72-600 aircraft orders between 2019 and 2022.
The 16 A330neos ordered by Cebu Pacific are all of the A330-900 variant. They will be set up in a high-capacity, single-class configuration with up to 460 seats. That represents a five percent increase in seats over Cebu Pacific's current A330 jets. Ultimately, the A330neos will replace Cebu Pacific's current A330 aircraft, which will be retired as the A330neos are delivered.
The carrier plans to use the new A330neo aircraft on trunk routes within the Philippines and the rest of Asia, as well as on long-haul routes to Australia and the Middle East.  The A330neo's latest-generation Rolls-Royce 7000 engines and new Sharklet wingtip devices that provide increased wingspan, increased lift and reduced drag will no doubt allow Cebu Pacific to operate these routes more efficiently.
Lance Gokongwei, Cebu Pacific's President and CEO, said the following regarding the A330neo order: "The A330neo is integral to our fleet modernization program. With this purchase, we aim to reduce our fuel emission and build a more sustainable operation. This will also give us the lowest cost per seat, at the same time enabling CEB to increase seat capacity and maximize valuable airport slots in Manila and other Asian megacities."
Cebu Pacific's A330neos are scheduled for delivery between 2021 and 2024. Airbus launched the A330neo program in the summer of 2014.  The A330-900 first flew in October 2017 and its first delivery to TAP Air Portugal followed in the fall of 2018.

Jordan joined the AG team in 2018 after attending AAviationDay in Philadelphia.He is actively pursuing his private pilot certificate and has been an aviation enthusiast since childhood.An attorney by trade, Jordan jokingly refers to himself as a "recovering litigator" and now focuses on subcontracts management.

Jordan focuses his writing on innovations in commercial aviation, aviation history, and other interesting topics he feels are worthy of discussion in the community.

Latest posts by Jordan Green (see all)