United Airlines unveiled its updated livery in April after months of speculations that a new color scheme was on the horizon. The final product was presented during an event at the airline's Chicago O'Hare hangar and was met with mixed reviews from fans and employees. N37267, an 18-year-old 737-800, was the first and only aircraft to wear the new livery for over a month.
Similar to the initial United Polaris business class rollout in early 2017, the repaint process had a very slow start. This was in part due to the Boeing 737 MAX grounding which left United with no slack in its fleet during the busy summer travel season. As a result, the carrier put its repainting efforts on pause until the peak travel season had passed. Fast forward to late November, the repaint process is back on track with progress being made.
As of November 28, 19 aircraft are flying with United's new colors, approximately 2.5 percent of its mainline fleet. Three A319s, two A320s, eight 737-800s and two 757-200s in the narrow-body fleet sport United's next livery.
N605UX, a United Express Embraer E-175, was the first aircraft delivered with the new livery. Since its delivery, ExpressJet Airlines has taken delivery of 17 additional E-175s in the new colors. 41 of the 625 aircraft in the United Express fleet already have the new livery including 18 E-175s, five E-145s, two CRJ-200s and 16 CRJ-550s.
Over six months after showing off the new design, there were still no widebodies flying with the new colors. This changed in mid-November when N676UA, an almost 19-year old 767-300, emerged from the paint shop in Lake City, FL. Since its debut on Nov. 12, a second 767-300 has also been repainted.
A 777-300ER's tail on the flight line at Paine Field was also spotted with United's new livery earlier this month. N2749U took its first flight on Nov. 27 and is expected to be delivered to United as the first 777 with the new paint in the next month.
Two 787-10s at the Charleston factory destined for United Airlines have been spotted with the new livery. N14011 is the first Dreamliner featuring the new tail design. The full livery is expected to be painted on the aircraft once the General Electric GENX-1B76 engines are fitted, prior to delivery.
United repaints its aircraft every seven years, meaning the current livery will be around until at least 2026. Several factory-fresh grounded 737 MAX 9 aircraft sport United's old globe livery and will likely be among the last aircraft to be repainted. The brand refresh was designed by PristmanGoode, a London-based brand and design company.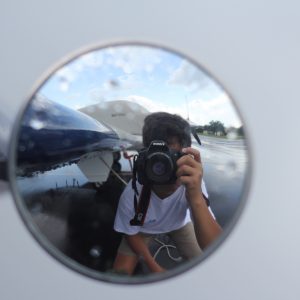 Mateen has been interested in aviation from a very young age. He got his first model airplane at six and has been airplane spotting since he was nine years old. He has always had a passion for aviation and loves learning about different aspects within the industry. In addition to writing for AirlineGeeks, Mateen is also an editor for his high school's newspaper. You can also find him on Instagram (@Plane.Photos) where he enjoys sharing his aviation photography with thousands of people everyday.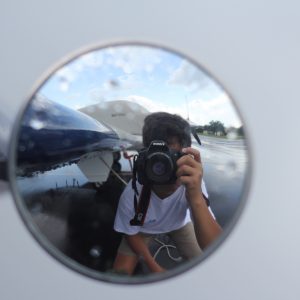 Latest posts by Mateen Kontoravdis (see all)