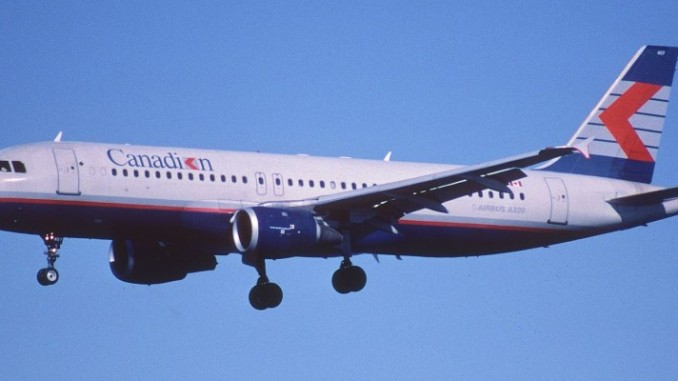 Canada is a large and expansive country, with the majority of its population centers spread out. With such a great distance between the major cities, air travel is vital to keep people connected. For years, the Canadian skies have been dominated by Air Canada. However, in the late 1980s, a new challenger emerged.
In 1987 Pacific Western Airlines, at the time Western Canada's largest airline, purchased CP Air, which was another Western Canadian airline that had an extensive network overseas, specifically in Asia. The result of the merger became Canadian Airlines. The combined airline was made up of DC-10s and Boeing 767s for international operations, as well as variants of the Boeing 737 for domestic and United States operations. The first problem the airline had was the airline ran into was that all of their main routes were located in Western Canada with very little service in Eastern Canada, such as Toronto and Montreal. This left a large gap for those wanting to travel to and from the other half of the country.
In 1989, Canadian Airlines purchased Wardair. Wardair found success with charter operations but came into trouble when they launched into the scheduled foray. The greatest benefit that came from the airline was access to Eastern Canada and lucrative European routes. With the acquisition of Wardair, Canadian has hubs in Montreal and Toronto as well as the established hubs in Vancouver and Calgary. In 1991, the airline industry slump hit Canadian hard. The airline was over CAD$700 million in debt, and as a result, the airline was forced to streamline their operations and go through financial restructuring.
Included in this streamlining was the introduction of the Airbus A320, which replaced the aging fleet of Boeing 737s. Also introduced during this period of restructuring was the Boeing 747-400 to replace the aging international fleet. In 1996, a new restructuring plan was brought on to make the airline more profitable. Initially, the plan was successful, allowing Canadian Air to become a founding member of the oneworld Alliance. However, the airline was hit hard by the Asian financial crisis of 1998. Asia had provided major routes for the airline, allowing them to become the largest Canadian carrier to Asia. These former profit makers for the airline soon became loss makers.
In 1999, the airline was in financial ruins. The airline had focused on raising a Vancouver hub with connections to Asia, and with the financial crisis, Canadian Airlines had nowhere to turn. Air Canada made a proposal to purchase Canadian and take over the airlines' international routing, which would have seen Canadian relegated to a feeder airline for Air Canada. The company rejected this offer, and soon a counter offer emerged from the Onex Corporation, which was backed by oneworld partner, American. The American-backed bid was quickly being reviewed, and Air Canada along with their Star Alliance partners put up a counter-bid.
In late 1999 the Onex bid was declared illegal by a Canadian judge, stating that the airline could not have more than 10% ownership go to one group. With the American-backed bid dead in the water, Air Canada proceeded with their takeover. The deal became official on December 8th, 1999. Initially, the airline was operated as a subsidiary of Air Canada until October of 2000 when the airline became fully integrated with Air Canada. Unfortunately for Canadian Airlines employees, two months later Air Canada announced 3,500 jobs would be cut. After the downturn in travel after the 9/11 attacks, a further 5,000 jobs were cut from Air Canada.
Canadian Airlines was not only a major player in the Canadian aviation industry but in the global industry as well. Unfortunately like many airlines during financial crisis, the airline was not meant to be. However, its legacy lives on through Air Canada and its many destinations throughout Canada and abroad.

Daniel has always had aviation in his life; from flying to the United States when he was 2, to flying to Tampa and Las Vegas for family vacations. Aviation has always had a strong influence in his life. Daniel grew up in Indianapolis, Indiana and moved to his current South Florida home in 2010. He favors Ft. Lauderdale-Hollywood International Airport but also fly's out of Miami International Airport when traveling back to his native England. He is currently attending Nova Southeastern University in Davie, Florida and is on track to graduate in 2018 with a degree in Human Factors in Aviation and his pilot's license. When he graduates he hopes to become a commercial pilot.

Latest posts by Daniel Morley (see all)