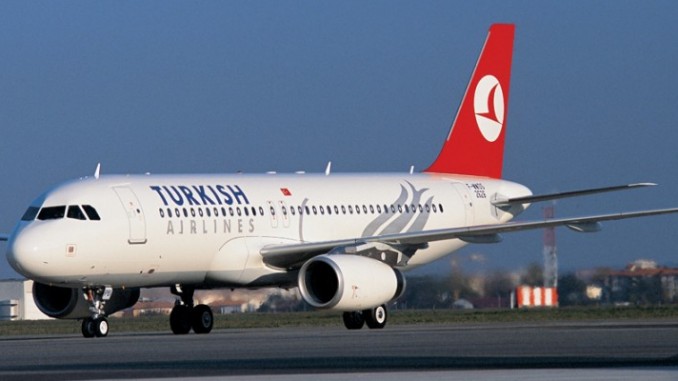 The bomber who blew a whole in the side of the Daallo Airlines A321 last week was meant to be on a Turkish Airlines flight, according to airline executives from Daallo. The explosive device left a hole in the side of the aircraft, which was transitioning through 11,000 feet when the explosion occurred. The pilots were able to safely land the airplane with the only causality being the bomber who was sucked through the hole he had created.
The events leading to the bombing started earlier in the day, on February 2nd, when Turkish Airlines cancelled its flight from Mogadishu to Djibouti, citing bad weather for the cancellation. Djibouti-based Daallo Airlines was then brought in to transport the 70 stranded passengers, including the bomber, to Dijbouti. Shortly after takeoff, as the plane was climbing through 11,000 feet and in the early stages of pressurization, the bomber detonated his device, which is believed to be carried in a portable laptop computer. The bomber was sucked out and killed while two other people were injured from the blast.
Mohamed Yassin, the CEO of Daallo Airlines told Reuters in a phone interview that the bomber on his aircraft was originally on the passenger manifest for the cancelled Turkish Airlines flight. The damage was limited due to the aircraft not being fully pressurized and at a low altitude.
Somalia has been a conflict zone since a civil war broke out in the country in the early 1990s. The airport, however, is considered to be a safe zone that is heavily secure. It is believed that airport workers gave the bomber the laptop containing the bomb, circumventing normal security screenings. The Daallo Airlines pilot, who corralled the damaged aircraft back to the airport, contradicts this belief in the Mogadishu Airport. In an interview with the Associated Press he stated that upon parking "20 to 30 people come to the tarmac." He continues, "No one has a badge or those yellow vests. They enter and leave the plane, and no one knows who is who … They can put anything inside when passengers leave the aircraft."
Photos of the damage to Daallo airlines taken after the emergency landing. Two passengers were injured. #Somalia pic.twitter.com/2A5XTyOajm

— Harun Maruf (@HarunMaruf) February 2, 2016
So far, at least twenty people have been arrested in Somalia, including two individuals who appear to be handing the bomber the laptop in CCTV footage. The investigation into the bombing is still continuing, however, Yassin stated that Daallo will continue to serve Somalia and continue keeping Somalia connected with the rest of the world.

Daniel has always had aviation in his life; from moving to the United States when he was two, to family vacations across the U.S., and back to his native England. He currently resides in South Florida and attends Nova Southeastern University, studying Human Factors in Aviation. Daniel has his Commercial Certificate for both land and sea, and hopes to one day join the major airlines.

Latest posts by Daniel Morley (see all)