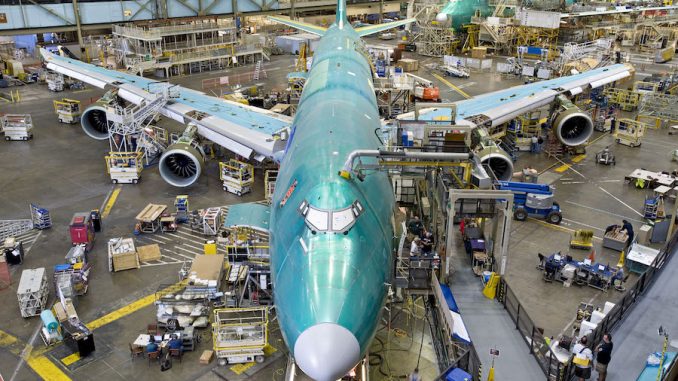 Boeing's current Chairman and CEO, Dennis Muilenburg, today announced the selection of Kevin McCallister as the new CEO to lead Boeing Commercial Airplanes. In addition, Muilenburg also announced the combination of Boeing's Defense, Space and Security's Global Services and Support, and Commercial Aviation services to create Global Business Services, an integrated solution across both the defense and commercial industries.
McCallister, who will transition into outgoing CEO Ray Connor's role, spent the last 27 years of his career at GE Aviation. With a background in materials engineering, McCallister joined GE in 1989 after leaving aerospace manufacturer Howmet Corporation. He spent numerous years in leadership functions across the GE portfolio before achieving his current role as CEO of GE Aviation Services in 2014.
Conner started with the company in 1977 as a mechanic for the 727 program. He will continue to serve as Boeing vice chairman through 2017.
"Kevin [McCallister] is one of industry's best and most highly regarded senior executives, and we are thrilled to have him join Boeing and our strong Commercial Airplanes team," Muilenburg said. "He's a passionate leader with decades of commercial aviation knowledge and experience. He knows Boeing well, shares our values and commitment to our people, and has the results-oriented operational and business experience needed to lead this vital and growing part of our company."
Boeing hopes that its new Global Services group will bring together core capabilities currently within the company's various entities with a unified headquarters based in Dallas, TX. This location was selected as it is currently where Avaiall is located, which is an aircraft parts and services provider that Boeing purchased in 2006. The company hopes to have its new Global Services group up and running by Q3 of 2017.
Boeing Global Services will be led by Stanley A. Deal, a veteran Boeing executive who join the company in 1986.
Boeing continues to look towards opportunistic consolidation and re-focusing, as it faces pressure from both its legacy competition and new entrants. Airbus has continued to push its A350XWB further into the global airline market, pressuring Boeing's competing product, the 787 Dreamliner, to continue increasing sales. While competitor Bombardier had ignored the mid-size aircraft market for some time, with the introduction of its C Series aircraft hopes to take aim at the smaller end of Boeing 737 aircraft, historically referred to as one of its key aircraft with significant sales globally.

Joe is a recent graduate of Miami University (OH), and has been following the aviation world ever since his first business class flight to Asia in 2013. While he has joined the real working world since graduating, he continues to follow his passion of airlines and aviation through earning miles and redeeming them for trips around the world. His dream is to one day be involved in managing or consulting for a global airline.

Latest posts by Joe Pesek (see all)