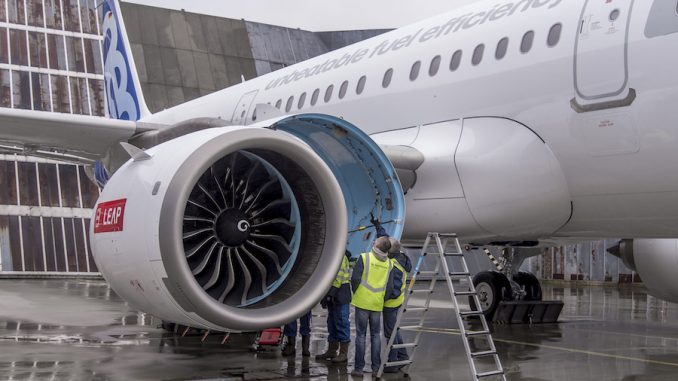 The Airbus A321neo with CFM Leap-1A engines has received type certification from the European Aviation Safety Agency (EASA) and the Federal Aviation Administration (FAA). Both certificates were given to Senior Vice President of the Airbus A320 program, Klaus Roewe, and Chief Engineer of the Airbus A320 family, Pierre-Henri Brousse.
With these certifications, customers of the Airbus A321neo will be able to choose between Pratt & Whitney's Pure Power PW1100G-JM or the CFM LEAP-1A to power their aircraft. The certification process took place over 160 flights, taking more than 400 flight hours to complete.
The process tested the aircraft's airframe and systems to ensure the design limits are met and exceeded.
The A321neo powered by CFM powerplants is the fourth NEO aircraft to be certified in the past 15 months. 
The Airbus A320neo has already entered service with carriers such as Spirit, Lufthansa, and IndiGo. The Airbus A321neo has yet to enter service with airlines. U.S.-based Virgin America will be among the first to operate the aircraft on revenue service routes starting in late May. 
The NEO has many advantages over the older Airbus A320 family, such as improved range, fuel economy, and passenger comfort.
The A320neo family currently has 5,000 orders in the books from 92 customers. The first customer for the A321neo will be Los Angeles-based ILFC, a leasing firm.
The program has not been without troubles, with the first A321neo aircraft suffering a tailstrike during testing, forcing the aircraft to return to Toulouse adding a delay in the program. However, since the incident, the program has recovered and testing has continued.

Daniel has always had aviation in his life; from flying to the United States when he was 2, to flying to Tampa and Las Vegas for family vacations. Aviation has always had a strong influence in his life. Daniel grew up in Indianapolis, Indiana and moved to his current South Florida home in 2010. He favors Ft. Lauderdale-Hollywood International Airport but also fly's out of Miami International Airport when traveling back to his native England. He is currently attending Nova Southeastern University in Davie, Florida and is on track to graduate in 2018 with a degree in Human Factors in Aviation and his pilot's license. When he graduates he hopes to become a commercial pilot.

Latest posts by Daniel Morley (see all)