Miami International Airport has a history filled with numerous airlines, different names and even different locations. Originally, Pan Am owned the then named 36th Street Airport, but in 1945, the city of Miami raised the funds to buy the airport and combined it with the army airfield to the south. From there, the airport grew exponentially due to the growth of Pan Am who had their Central and Southern America operations based at MIA. In 1975, Eastern Airlines moved their base of operations from New York to Miami, and competed with Pan Am on the South and Central American routes. These two rivals ended in a similar fate, but their routes from Miami always proved profitable.
The demise of Eastern Airlines provided the ignition point for the growth of the largest airline at MIA today: American Airlines. In the late '80s, while Eastern was in the middle of bankruptcy, American was looking to find a new hub for its rapidly expanding fleet base. Deciding that buying Eastern's Atlanta hub would be unprofitable, due to competition from Delta, they turned to Miami. After rebuttal from Eastern, who were looking to make the MIA hub profitable, American purchased Eastern's operations anyway. Pan Am's operations were purchased by United who kept the hub at MIA until 2004 to focus on operations at Chicago-O'Hare.
Today, American remains the largest carrier at MIA, accounting for 68 percent of all passenger traffic. They have their own terminal at MIA, the North Terminal–or Concourse D–and even have their own international arrivals facility. While the South and Central America routes remain key, domestic expansion destinations has increased. American currently has service to 27 States and routes to destinations in Europe such as London, Barcelona, and Madrid.
Currently, the route to London is the most travelled route with just over 1 million passengers served a year, split between American, BritishAirways, and Virgin Atlantic. Flights to Haiti and Cuba also provide many passengers their only connection to their homeland.
Currently, there are three terminals at the airport, the North Terminal (aka Concourse D), the Central Terminal and the South Terminal. Originally used by Eastern in their heyday, it is now almost exclusively used by American Airlines.The North Terminal consists of 45 gates and two Admirals Clubs. The Central Terminal has three concourses (E, F, & G) consisting of 52 gates. It is mostly used my Oneworld partners and non-affiliated airlines, as well as low cost carriers. The South Terminal has two concourses (H&J), which consists of 28 gates. Concourse H serves Delta and their SkyTeam partners while Concourse J serves United and their Star Alliance partners.
Anyone looking to spot will find a unique location on the west side of MIA, near the customs building, on NW 25th: The Holes. Like the namesake, there are holes cut into the perimeter fence for camera lenses. From this location, runway 12 is directly in front of you while 8 right and 8 left and very close by. The Holes offers a clear view of all three runways.
Miami is one of the world's most diverse airports. With a wide variety of airlines and exotic destination, MIA will most likely continue to grow, despite many drastic changes in its history.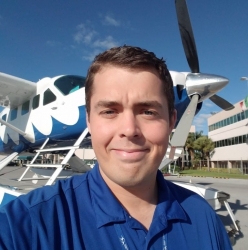 Daniel has always had aviation in his life; from moving to the United States when he was two, to family vacations across the U.S., and back to his native England. He currently resides in South Florida and attends Nova Southeastern University, studying Human Factors in Aviation. Daniel has his Commercial Certificate for both land and sea, and hopes to one day join the major airlines.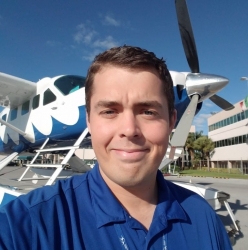 Latest posts by Daniel Morley (see all)