The success of Ryanair in Europe has lead many groups around the world to attempt to copy their business style, with most having lackluster results. One of these airlines was Skybus Airlines in the United States. Founded in 2004, the airline attempted to use low fares and no frills to fly routes that other airlines did not operate. Like Ryanair, Skybus focused on flying into secondary airports that had less traffic then larger airports.
In 2003, America West closed their Columbus hub due to continuous financial losses. It was after the loss of America West that businessman John Weikle began raising funds for a new, Columbus based airline. After two years of funding, Weikle brought on Bill Diffenderffer as CEO. Diffenderffer had previously done counsel work for Eastern Airlines, before their demise, and also served as the CEO of Continental Airlines Reservation system. The next two years were spent raising more funds to get the airline off the ground.
Skybus received an operating certificate from the FAA on May 10, 2007 and had already begun selling tickets a month beforehand. Initially Skybus planned to serve 8 destinations from their Columbus hub, while projecting to expand later in the year. By the time the airline took off on May 22, 2007, Skybus was the most funded airline startup in US history.
The airline began operations with leased Airbus A319's. Before beginning service, Skybus signed a $3.7 billion deal with Airbus to purchase 65 brand new A319's. The aircraft were to have electronic flight bags, heads up display, and TCAS II, designed to help prevent against terrain and traffic issues. Skybus controlled maintenance costs by entering a 12-year agreement with Airbus for maintenance work on the new fleet. At the time of shutdown, they only had taken delivery of 11 models from the order.
Their fleet was painted bright orange, unusual for a US airline at the time. Skybus also used their fleet as an additional source of revenue. Companies could have their logo and slogan painted on the fuselage of aircraft for $500,000 a year. The first company to advertise with Skybus was fellow Columbus based company, Nationwide Insurance. They also used flight attendants uniforms to advertise Skybus' cities or low fares.
One quirk of Skybus' service was initially only allowing point-to-point service, therefore forcing passengers who wished to connect at the Columbus hub to collect their luggage and recheck in for their second flight. Skybus also held other unique features such as its fare structure. Seats began selling at $10 and increased as more seats were bought for the flight. The fares were one-way and did not include taxes and airport fees. The airline also charged for almost everything extra. They were one of the first airlines in the US to charge for checked baggage, and also charged for pillows, food, and even drinks.
As Skybus expanded, they began to use a page from Ryanair's handbook and focused on serving smaller airports near major cities. For example, Chattanooga was advertised as Chattanooga/Atlanta and Portsmouth, NH was used to serve Boston. To complement expansion plans, a second hub was opened at Piedmont Triad Airport in Greensboro, SC. Service from both Columbus and Greensboro focused on routes between major cities and southern vacation spots. This allowed Skybus to tap into the lucrative tourist market serving places like St. Augustine, Ft. Lauderdale, and Punta Gorda.
The first signs of trouble for Skybus came in the winter travel season of 2007. Maintenance problems with two of their seven aircraft caused the airline to have to cancel 25% of its scheduled service. Skybus also never signed a deicing contract for the winter, causing large amount of delays and thousands of dollars of additional deicing costs. The winter fiasco would eventually cost the airline millions and would begin to signal their downfall later that year.
In February 2008, the airline ended all service to the west coast with the exception of flights to Burbank. Skybus also announced it would be canceling flights between Columbus and Niagara Falls before service even began, along with canceling all service to Chattanooga in April. The signs showed the struggle that Skybus was facing at the time, and the new economic climate of the recession in 2008.
The end of Skybus came at a difficult time for the US aviation industry. The week of March 31st saw four airlines shut down in the US, including two established carriers, Aloha and ATA, charter airline Champion Air, and Skybus. On April 4, 2008 Skybus announced they would shut down all flight operations effective immediately. The airline cited "rising fuel costs and the slowing economic climate." The loss cost 450 jobs in the Columbus area and stranded thousands of passengers on round-trip journeys.
The failure of Skybus was caused by numerous problems. The recession of 2008 and increases in fuel costs hurt the airline substantially, but other issues were to blame as well such as the decision to use Columbus as a starting hub, a small city to attempt to begin major airline operations. Although Skybus ended in bankruptcy, it provided a basis for the beginning of the ultra low-cost era in US aviation. Spirit and Frontier later used the model provided by Skybus as they transitioned to ultra low-cost models to remain more competitive. With Spirit and Frontier, Skybus's low-cost and no frills beliefs still remain to this day despite the airline's demise.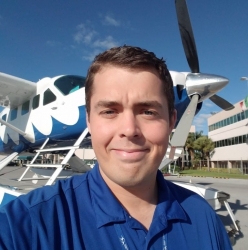 Daniel has always had aviation in his life; from moving to the United States when he was two, to family vacations across the U.S., and back to his native England. He currently resides in South Florida and attends Nova Southeastern University, studying Human Factors in Aviation. Daniel has his Commercial Certificate for both land and sea, and hopes to one day join the major airlines.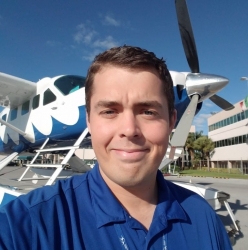 Latest posts by Daniel Morley (see all)