Similar to Michael Scott and the rest of the cast from the hit television show The Office, Midwest Airlines started from a paper company. In 1948 the Kimberly-Clark Corporation opened a corporate flight department to transport employees and executives between the company's headquarters in Eastern Wisconsin and the company's paper mills across the country. The department expanded in 1969 to form K-C Aviation, which was created to carry out the maintenance for Kimberly-Clark's corporate aircraft. When the U.S. government enacted the Airline Deregulation Act in 1978, Kimberly-Clark chose to start regular commercial service, and was shortly thereafter named Midwest Express.
Midwest Express began with two DC-9s and 83 employees with plans to serve Appleton, Chicago, and Atlanta. Throughout the '80s the airline grew slowly, adding DC-9s and serving major cities in the Midwest as well as the East Coast. The airline was popular with business travelers who appreciated the excellent service provided by Midwest employees. Each aircraft was arranged in a 2 by 2 configuration with ample legroom in each row. Meal service was offered on every flight, as well as fresh baked cookies. Service became a staple for Midwest with their slogan "The Best Care in the Air," showing their dedication to an excellent customer experience.
During the late '80s and early '90s, Midwest continued to experience a time of growth and profitability. The airline added the much larger MD-80 to the fleet and became an established national and regional airline by creating Skyway Airlines to provide regional service to serve smaller cities in the Midwest using Beechcraft 1900 and Fairchild-Dornier 328 jets. The regional routes continued offering exemplary service, with all aircraft having leather seats and some routes serving fresh baked cookies. In the late '90s Kimberly-Clark relinquished their ownership in Midwest Express by offering the airline up to an initial public offering on the American Stock Exchange. During this time Midwest also began offering vacation packages under the name Midwest Vacations, partnering with GOGO Vacations to provide hotel packages.
For 14 years Midwest was able to stay profitable until it was severely impacted by the September 11th attacks. Major changes were needed in order for Midwest to return to profitability, as some MD-80's were reconfigured into a 2-3 format with reduce seat width. The airline also introduced Saver Service, an affordable way to fly to leisure destinations such as Las Vegas and Florida. In 2002, inflight meals were dropped from flights as a way to save money, but fresh baked cookies would remain.
Also in 2002, Midwest Express rebranded itself as Midwest Airlines. This was done to disassociate Midwest from regional carriers, as Midwest now served destinations from coast to coast. Service operated by Skyway was renamed from Midwest Express Connection to Midwest Connect. The airline quickly began adding Boeing 717s to the fleet to replace the aging DC-9 fleet, and along with AirTran took delivery of the last Boeing 717s delivered in 2006. Midwest also began to retire the MD-80 fleet due to cost concerns.
The mid-2000's brought changes in the service offered by Midwest as each aircraft was now split between two cabins, The Signature Service and The Saver Service. The Signature service featured 2-2 seats while the Saver service featured 2-3 seats. Amenities offered to passengers were the same for each class. The airline also began to offer a buy-on-board service for inflight meals. In 2007 Midwest began a codeshare agreement with Northwest Airlines that helped them add 250 new routes for Midwest customers. The codeshare helped Midwest's customers reach places around the world by using Northwest's trans-Atlantic network and partnership with KLM.
In 2006, AirTran Airways attempted to purchase Midwest Airlines. Originally Midwest's board rejected the takeover not only once, but twice even after AirTran re-upped their offer. The Midwest board preferred a counter bid from the investment group TPG Capital, which also partially owned Northwest Airlines. A small bidding war between AirTran and TPG occurred before finally TPG won the battle and paid a cool $450 million to purchase Midwest.
The new ownership group faced an immediate issue with rising fuel costs, forcing the airline to ground its MD-80 fleet and completely remove the aircraft from service in 2008. Republic Airways began operating 12 Embraer 170's for Midwest Airlines. Midwest also began removing the Boeing 717' from the fleet, reducing them to just nine aircraft in 2008. Just 22 months after being purchased by TPG, Midwest was sold once again to Republic Airways Holdings for just $31 million, a loss for TPG of $419 million. Midwest became a wholly owned subsidiary of Republic Airways, and shortly after the acquisition Republic announced that they would operate all flying for Midwest.
Midwest was considered the little brother of Republic Airways Holding, as Frontier Airlines was clearly larger and more influential. In early 2010, Republic announced that they would be merging the Midwest and Frontier brands, with Frontier being the chosen brand moving forward. However, the Midwest cookie and slogan remained. On October 28, 2010 Midwest Airlines website was shut down, officially signaling the end of operations. The operating certificate for Midwest was allowed to expire in late 2009. Midwest was known for their service and their delightful cookies, although both are now written in the history books, the memory and legacy of Midwest will remain.
EXTRA: Need to catch up on all of our TBTs? Fly on over here.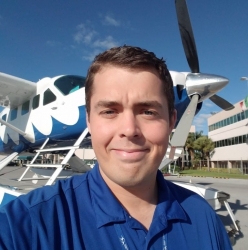 Daniel has always had aviation in his life; from moving to the United States when he was two, to family vacations across the U.S., and back to his native England. He currently resides in South Florida and attends Nova Southeastern University, studying Human Factors in Aviation. Daniel has his Commercial Certificate for both land and sea, and hopes to one day join the major airlines.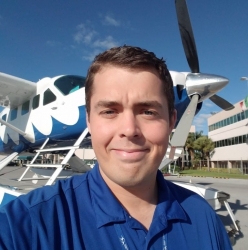 Latest posts by Daniel Morley (see all)