During the mid-2000s the trans-Atlantic market became home to a new type of airline. Business class only airlines began springing up on the popular New York to London route. The airlines Eos, MAXjet, and Silverjet all offered a similar product to the same market. The airlines aimed to lure business customers from the established trans-Atlantic airlines such as, American Airlines, British Airways, and Virgin Atlantic. Unfortunately almost all these airlines met an unfortunate end.
MAXjet
MAXjet, which began life as SkyLink Airways, started the lengthy process of gaining airline certification in the United States in 2003. The original business plan was for Skylink to offer low-cost transatlantic service from East Coast hubs of jetBlue and Southwest and European hubs of easyjet and Ryanair.
In 2005 the airline changed its name from Skylink to MAXjet Airways. This was the result of a lawsuit from Canadian ground service company Skylink Aviation. Along with the name change, management of the airline decided to change the business plan. They were concerned with the economics of a long-haul low cost airline. Management decided that a switch to a premium all-business class would be more successful.
The start-up finally commenced operations between London Stansted and New York's JFK on November 1st, 2005. With all routes operating from Stansted, MAXjet experienced growth during its first year of operation. Routes to Los Angeles, and Las Vegas were added, and used Boeing 767's were added to the fleet. As well as scheduled operations, MAXjet was also successful in the luxury charter industry, such as sports teams and governments.
In 2007, business was looking good for MAXjet. In June the company self reported a load factor of 81% on flights from Stansted. However by December affairs took a turn for the worst. Trading of MAXjet stock was suspended in London on December 7th. By the 23rd it appeared that an 11th hour financial rescue package would come through to save the airline. However the next morning MAXjet announced they had entered Chapter 11 bankruptcy. Officials made arrangements with Eos and Continental and Silverjet offered to accommodate the stranded passengers. A short-lived plan to revive the airline was brought up in March of 2008 however the plans never left the ground.
Silverjet
British entrepreneur Lawrence Hunt founded Silverjet in 2004. During their formative years, Silverjet focused on gaining funds for operations, and in 2006 they were listed on the AIM, part of the London Stock Exchange. Later that year, the airline purchased two-used Boeing 767's from Thomsonfly to be delivered early the next year. Also the airline purchased charter operator, Flyjet. This gave the airline a British operating certificate and two Boeing 757 and a 767.
Silverjet began operations on the 25th of January 2007 from London Luton to Newark. The business plan was to operate all business class service between the heavily traveled London-New York route. Later in 2007 the airline opened up a second daily service to Newark. In November the airline began daily service between Luton and Dubai. The airline had plans for future international expansion but placed them on hold due to their financial situation.
Two things made Silverjet unique from their competitors. One was their private terminal at Luton. As well as the private terminal at Luton, Silverjet offered their passengers a private check-in area at Newark and used the executive terminal at Dubai International. The other was their goal to become the world's first "carbon neutral" airline. All tickets sold by the airline included a mandatory carbon offset that would be reinvested in projects that help the climate. Due to their efforts, the airline won the "Environmentally Aware Airline 2007" by The Institute of Transport Management.
The end for Silverjet was brought on too soon. In the beginning of 2008, the airline arranged a $4.8 million loan from Middle Eastern investors. However, the airline failed to secure $5 million they urgently needed to continue operations. On the 23rd of May the airline suspended trading on the AIM. Seven days later Lawrence Hunt announced that Silverjet would suspend operations and suspend all flights due to a lack of funding. The last Silverjet flight landed at Luton from Dubai at 3pm the day of the announcement. Silverjet's history was only one year long but they set unprecedented service for their customers.
Eos Airlines
Dave Spurlock a former director at British Airways founded Eos in 2004, under the original guise of Atlantic Express. The airline planned to operate business class operations between New York and London. In 2005, Spurlock changed the name to Eos Airlines, after the Greek goddess of the same name.
Operations began on October 18th, 2005, with a Boeing 757 between New York's JFK and London Stansted. They operated up to four flights a day between New York and London using a fleet of six Boeing 757s. The 757s were operated with a 48 seat all business configuration. The seats were arranged to allow passengers have face-to-face meetings on board.
By June of 2007, Eos claimed to have the fourth most frequencies between New York and London. Plans were made to expand from Stansted to Boston, Los Angeles and Washington D.C. Also plans were made to expand from Miami and South America, flights from New York to Paris, and London to Dubai.
Despite expansion plans, including new destinations and additional aircraft, the airline declared bankruptcy on April 26th, 2008 with passenger operations ending the next day. Eos's last flight was operated from London to New York landing shortly after midnight on the 31st of April.
These airlines all tried to provide a premium only product to the transatlantic market only to fail due to the economy and financial problems. However they did give the major airlines trouble during their time flying. The level of service offered by the majors improved after their customers experienced the luxury and privacy offered by these premium airlines. As of today, only one airline remains, L'avion, although it is now operated by British Airways, under the Openskies brand. Though short lived the legacy of these luxury carriers provided customers the high life from 38,000 feet.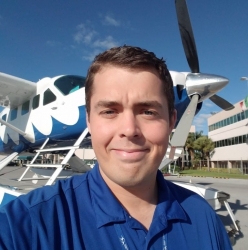 Daniel has always had aviation in his life; from moving to the United States when he was two, to family vacations across the U.S., and back to his native England. He currently resides in South Florida and attends Nova Southeastern University, studying Human Factors in Aviation. Daniel has his Commercial Certificate for both land and sea, and hopes to one day join the major airlines.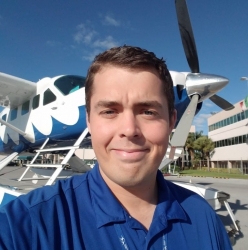 Latest posts by Daniel Morley (see all)