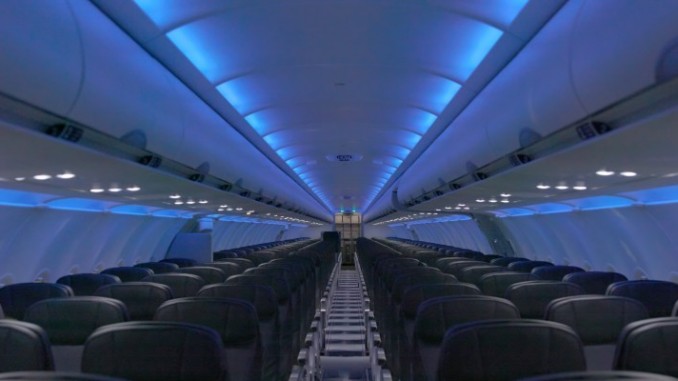 "Once again challenge the status quo," that's what Jamie Perry, JetBlue's vice president of brand and product development says the company is doing with its new interior design which is planned to start flying in 2017. The new design features sleek blue LED lighting, 10-inch streaming-capable HDTVs, and, of course, the feature in which the airline is famous for: the most legroom in coach, only this time, the seats that offer this legroom will have ergonomic support and moveable headrests.
Seats can be comfortable but in this digital age where young AvGeeks grow up with FlightRadar24 in their pockets, it's not really comfortable without internet.  That's where JetBlue's Fly-Fi comes in, raising the bar with up to twenty Megabits per second – it's fast and is currently available onboard every single one of the 130 Airbus' the airline operates but, only after an aircraft has reached 10,000ft.  With JetBlue's home being JFK, featuring everything from Cargolux 747s to Etihad's lavish A380, many AvGeeks just can't wait to share those pictures on social media.  The good news is, with this new design, we won't have to.  JetBlue's internet service will be available from gate-to-gate meaning that the video you shoot on takeoff can start receiving all of those likes on climb-out and hopefully have a million by the time you land in the airline's focus city, Fort Lauderdale, Florida.  Those on business trips courtesy of BLUE Inc., the airlines business booking tool may also need to send emails quickly, being that they would have internet access, a long takeoff line may be a lot less infuriating.
While enroute you'll have a whole lot more than half of the 36 DirecTV channels available now to watch.  In addition, these displays, which are going to be 4.5" bigger than they are now, will host 300 on-demand Hollywood films along with other content that will be stored onboard the airplanes.  If you somehow manage to get bored with all of that you can pair your personal device with the big screens to take advantage of the services that the first domestic airline to ever bring Wi-Fi to the seatback TV has to offer.  This includes the television streaming on the Google Android platform, meaning that in the future there could be apps, widgets, and live content.  JetBlue is also excited to feature both English and Spanish audio tracks.  With service to more Spanish-speaking cities planned for this year, it's a service all customers will have the chance to enjoy.
If you decide to opt out of all of that you can still hang out on your personal device, and when it runs out of battery because you've tweeted @AirlineGeeks just a tad too much, JetBlue will have the right remedy: an AC power outlet with a USB port at your seat and in every one of the 162 seats.  The All-Core will eventually have all the features of the restyle.  As for the Mint A321s, JetBlue has not indicated a restyle start or completion date.  However, the aircraft with Mint already have the majority of the features in the restyle, as JetBlue introduced this new branding in 2014 with the release of their very first A321.
Due to the fact that the airline will be adopting Airbus' Space-Flex v2 galley and lavatory module on both A320 and A321 All-Core aircraft, seat amounts will change.  There will now be 200 seats onboard the A321 and 162 seats onboard the A320.  Space-Flex allows for innovative lavatories and galleys that take advantage of the aircraft's rear space allowing for more seats which accommodate extra passengers during busy travel seasons.  This also allows JetBlue's award-winning crew members to get the unlimited free snacks and soft drinks prepared in a more modern space.
Restyling for the A321 will be completed in winter of this year, and as for the A320, it will begin early next year.
In 2013, Malick dusted off his copy of Flight Simulator X and installed it once again, in hopes of passing the tutorials.Well he did that, and so much more!He had always loved flying but, that was the pivotal moment in his life where he realized that aviation was his "thing."Now, in 2015, he plans to begin taking flight lessons at Long Island's MacArthur Airport (KISP).He just can't get enough of the roaring engines, and beautiful wing flexes.Those unique features keep the airline industry booming with news.Malick was always one to stay on top of it and break it to all of his friends.That, and a day at ABC sparked his interest in journalism, and he ended up here, at AirlineGeeks.com, and couldn't be happier.He knows that whether he goes into broadcast journalism, or into piloting as a career, or even something totally different, his heart will always long for a clear blue sky.
Latest posts by Malick Mercier (see all)