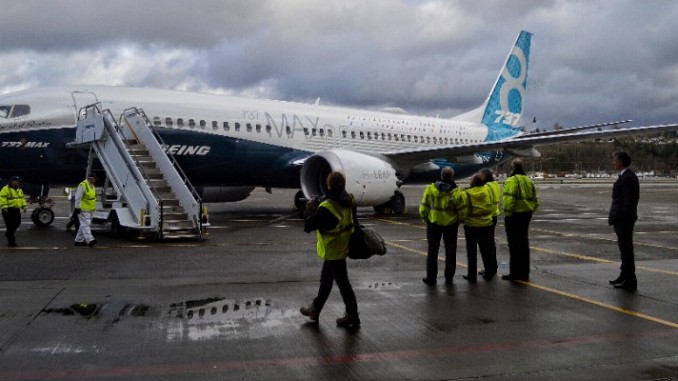 Awe-inspiring: that, in my opinion, is the best word to describe watching the Boeing 737 MAX 8 take to the cloudy, grey Washington skies for the first time.
Here's how the day shaped up: At 5 am, I work up to some "pump-up" music. At 6:15 am, I drove from my house in Marysville, Washington to a little park overlooking Renton Municipal Airport (RNT) for a little pre-dawn spotting. Later that morning, at 7:45 am, I drove over, checked in with Boeing, and boarded the bus to the media area.
At approximately 8:15 am, I was able to enjoy a nice, hot cup of coffee in the covered media trailer (an awesome accommodation, as it was quite rainy). From 8:45-9:40 am, I chatted with local and national aviation enthusiasts about journalism, airplanes, and photography, as we all waited in anticipation. At 9:45  am, myself and the other media folks watched excitedly and took plenty of pictures in the span of a minute and a half as Boeing's newest aircraft rotates 80 FEET from where we were standing, and climbed into the grey and dreary sky, which was not so grey and dreary because Boeing's newest aircraft was in it.
10:45 am rolled around and I arrived at BFI (Boeing Field) early to catch the 737MAX arrive. Later that morning, around 11:15 am, still euphoric about seeing the MAX lift off, I arrived at the Boeing Delivery Center for a make-your-own sandwich lunch, which was quite good.
After lunch, around noon, we went to another trailer they have set up for us to view the landing and wait. At 12:33 pm, we gathered to watch the 737 MAX battle a brisk crosswind and land softly and effortlessly at Boeing Field. The new airplane came to a stop on the taxiway and shut down after a very successful first flight around Western Washington. We listened to a small synopsis of the first flight, including altitude and speed. They kept it below 25,000 feet, mostly stayed at 15,000 feet and kept it under 250 knots for the duration of the flight. The aircraft flies similarly to a 737NG, but it is cleaner and quieter. Additionally, we also got to see just how happy Boeing was for a clean and successful first flight. 
The MAX has been in the works for about four years and rolled out just last month. With one in the testing stage and three in final assembly, expect to see the 737 MAX delivered in early to mid-2017. "Today's first flight of the 737 MAX carries us across the threshold of a new century of innovation – one driven by the same passion and ingenuity that have made this company great for 100 years," said Boeing Commercial Airplanes President and Chief Executive Officer Ray Conner. "We are tremendously proud to begin testing an airplane that will deliver unprecedented fuel efficiency in the single-aisle market for our customers."
The flight itself lasted 2 hours and 47 minutes, departing from KRNT at 9:46 am local time, arriving at KBFI at 12:33 pm. The planned flight could not take place, as weather over eastern Washington was hardly ideal for first flight conditions, so the MAX stayed on the west side of the Cascades and carried out its flight up and down the Puget sound and coastal area. The pilots of the flight were Chief Pilot Ed Wilson and Boeing Chief Test Pilot and Vice President of Flight Operations Craig Bomben. Both reported exemplary flying characteristics, "we couldn't have had a better first flight." Boeing plans to deliver its first 737 MAX sometime within the first two-quarters of 2017. According to the First Officer of today's flight, the cabin, unmuffled and in the test configuration, was one of the quietest aircraft he has ever been in. That's big for the future of comfort in air travel and the passenger experience.
Attending this event, from an AvGeek's perspective, was absolutely an amazing experience. Something that will forever be engrained in my memory, the fact I got to witness aviation history be made, and Boeing's newest airplane take to the sky, from the up-close perspective in which I was given access.
PHOTO GALLERY:
Ryan Krautkremer is a 17 year old avgeek living 15 miles north of Paine Field. He spends most of his free time plane spotting a paine field, spending time at his local General Aviation airport talking to pilots, and flight training in various tailwheel aircrafts. He has had a major interest in aviation since day one, and hopes to one day fly for Delta or Alaska Airlines.
Latest posts by Ryan Krautkremer (see all)