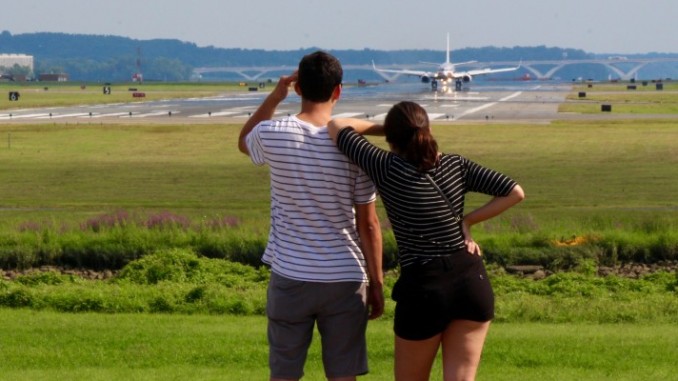 Valentine's Day is this Sunday and while many couples will have a standard dinner and a movie date, us aviation enthusiasts are always thinking of ways to change things up. Here are seven #AvGeek Valentine's Day ideas:
1. Go planespotting 
Yes, it is that simple. Grab a camera, a radio scanner, and drive over to your local airport to watch some aircraft movements. If you are really feeling it, perhaps make it into a picnic.
2. Watch a good aviation movie
Grab your 787 coffee mugs, fill them up with some hot chocolate, and turn on your favorite aviation film. We recommend our new documentary Grounded, but that's a little bias on our part.
3. Go to a local aerospace museum 
Sometimes, museums can be a fun way to show off your knowledge of aviation and to learn other stuff about the ever-changing aerospace industry.
4. Do a discovery flight
Many flight schools offer some kind of "discovery flight" in which you can go hands on and experience how an airplane flies accompanied by a flight instructor. After all, flying is romantic.
5. Surprise your significant other with a flight to an exotic destination
For us #AvGeeks, there is no better Valentine's Day gift than to fly somewhere and with a significant other, it is even better.
Ryan founded AirlineGeeks.com back in February 2013 (actually, it was called Aviation Official, but we've changed a bit since then). From being on the yoke of a Piper Navajo, to visiting about Delta's operations center in Atlanta, Ryan has done it all. in 2016, along with American Airlines, Ryan masterminded AAviationDay at more than 10 locations around the world. The smell of jet fumes in the morning along with the countless number of passionate airline employees keep him enthralled in the industry, always seeking more. You can find him helping out travelers at Reagan National Airport near Washington, D.C. when he's not doing something for AirlineGeeks.
Latest posts by Ryan Ewing (see all)