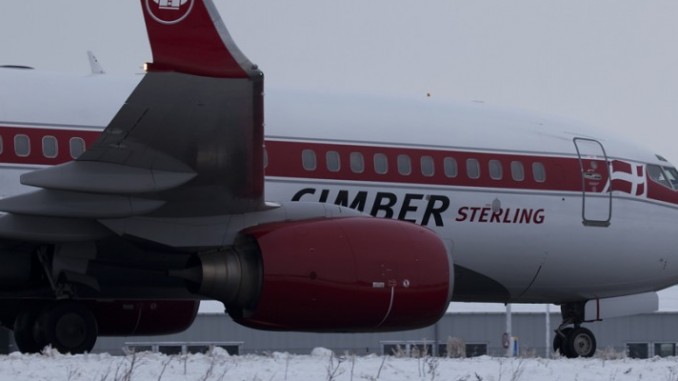 In 1950, Danish airline Cimber Air took to the skies over Sønderborg, Denmark. For the next 62 years, the long-lasting carrier would operate several varied aircraft types on international and domestic routes, as well as function under key codeshare agreements.
Their first aircraft was a SAI KZ III, a lightweight Danish utility airplane. Cimber Air also operated the Grumman Gulfstream I, and the Nord 262. They were also one of the four operators of the VFW-Fokker 614. Later on in their history, the carrier operated ATR 72s and Bombardier CRJ-200s.
Their route network was expansive, including various routes to cities in Spain, Turkey, France, Sweden, Italy Portugal, Czech Republic, Bulgaria, and Greece. With hubs located at Aalborg, Billund, and Copenhagen, Cimber benefited from having a spread-out network that could capture wide groups of travelers. Cimber maintained codeshares with larger partners, including Lufthansa and SAS, in order to stay competitive. As expected, these agreements helped enhance their international route network. In 1998, SAS purchased a 26% stake in the airline, a short-lived action that ended five years later when SAS sold it back to Cimber Air Holding.
Cimber reached a high point in their history in 2008 when they completed a takeover of Sterling Airlines, another carrier which had recently went bankrupt. The rebranding, finalized in January 2009, yielded a new name for the carrier, Cimber-Sterling. Former Sterling Air employees were not automatically given jobs at the new company though they were encouraged to apply for positions.
Financial struggles plagued the airline in 2011. In an attempt to recover, Cimber Sterling entered an agreement with Mansvell Enterprises, who acquired a 70.8% stake in the carrier. On May 3, 2012, Cimber-Sterling declared bankruptcy and promptly canceled all flights. The abrupt action gave other airlines an opportunity to enter in on some of the defunct carrier's former routes.
Though Cimber ended in ruins, the airline flew high for 62 years, a significant accomplishment for the small carrier. Their legacy has left a lasting impact on the numerous cities that their airplanes were once seen flying over.
Ashley is currently a senior in high school and plans on pursuing a career in aviation or journalism. Her favorite airplanes include the Boeing 777, 737MAX, and Airbus A350. She enjoys taking flights on various airlines to different airports and planespotting at her local airports.
Latest posts by Ashley Magoon (see all)