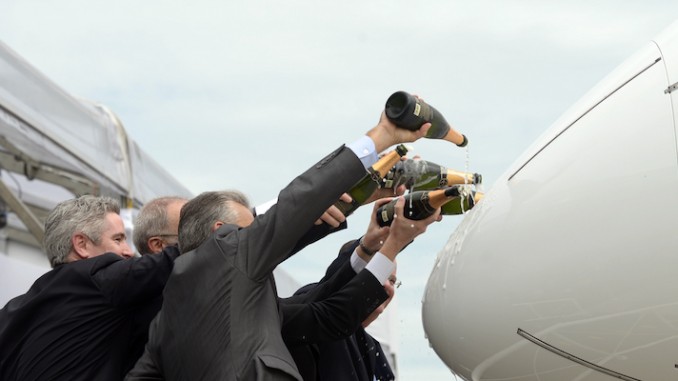 On February 25th, 2016, Embraer officially rolled out their new E190-E2 aircraft, a significant milestone for the company as the airplane is the first of their second generation of E-Jets. Embraer held the special ceremony at their plant in São José dos Campos, Brazil.
"The rollout held today marks the completion of the assembly of the first E190-E2 and paves the way for the start of the tests that will lead to the first flight," said Luís Carlos Affonso, Senior Vice President Operations and COO for Embraer Commercial Aviation. "We are delighted to reach this phase of the program, considering all of the technical and economic objectives set out at is inception."
The first flight is scheduled for the second half of 2016, and set to enter service in 2018, according to Embraer. The E2 program launch occurred in 2013 with an investment of $1.7 billion. Overall, the E2 has received 267 firm orders and 373 purchase rights, a total of 640 commitments.
The aircraft will feature fly-by-wire flight controls, system improvements, aerodynamically enhanced wings, and reductions in emissions, noise, fuel burn, and maintenance expenses. Similar to the E190, it can be arranged with 106 seats in a single class layout and 97 seats with a dual class design. The range has been increased 400 nautical miles, enabling the airplane to fly distances of 2,800 nautical miles.
Four prototypes will be used in order to certify the E190-E2. Two more prototypes will be included for the E195-E2, which is expected to enter service in 2019, and three will be added to the E175-E2 campaign, set for 2020.
"Today we have taken another step into the future of Embraer commercial aviation with the world premiere of our second-generation E-Jets," said Cesar Silva, President and CEO of Embraer Commercial Aviation. "I'm sure that as a result of this event, the market's interest in the E2 will grow even further, increasing the commercial success of this program throughout the world."
Check out these photos of the E190-E2:
Ashley is currently a senior in high school and plans on pursuing a career in aviation or journalism. Her favorite airplanes include the Boeing 777, 737MAX, and Airbus A350. She enjoys taking flights on various airlines to different airports and planespotting at her local airports.
Latest posts by Ashley Magoon (see all)