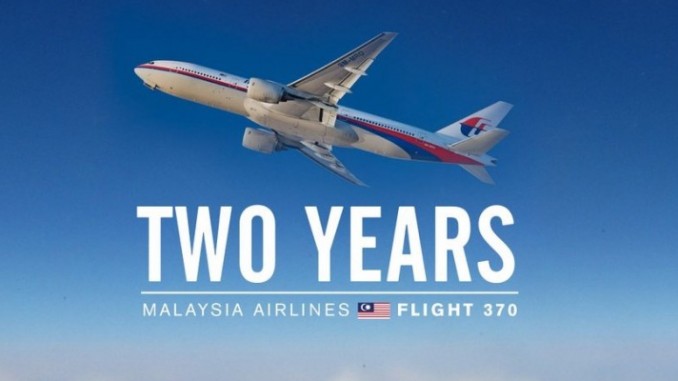 March 8, 2o16 marks two years since one of the greatest mysteries in aviation history, the disappearance of Malaysia Airlines flight 370. The Boeing 777-200ER, registered as 9M-MRO, vanished over the Gulf of Thailand at 1:21 am on March 8, 2014. The flight was enroute to Beijing from Kuala Lumpur, carrying 239 passengers and crew.
Our original tweet about the loss of MH370:
BREAKING Malaysia Airlines flight MH370 has lost contact with Subang ATC. Flight operated by a B777-200, 227 passengers and 12 crew on board

— AirlineGeeks.com (@AirlineGeeks) March 8, 2014

INMARSAT data suggests that the airplane made a sharp turn after radar contact was lost, flying back across the Malay Peninsula and the Strait of Malacca before turning south over the Southern Indian Ocean. This path was estimated based off of pings between the aircraft and satellites. The Australian Transport Safety Bureau, or ATSB, has called this assumed flight path the 7th arc, and believes that MH370 will be found somewhere along that path.
A major breakthrough in the mystery came on July 29, 2015, when a Boeing 777 flaperon washed ashore on La Réunion, an island thousands of miles away from the search area. Despite the significant distance, ocean patterns suggest that the flaperon originated from the Southern Indian Ocean. The part was confirmed to be from MH370 in September. On March 3, 2016, a part also suspected to have come from the airplane was also found on a beach in Mozambique, though it has not yet been confirmed as belonging to MH370.
Since flight 370 is such an unusual event, the stakes to find it are high. The incident has sparked a sense of desperation to fix whatever caused an airplane deemed incredibly safe to remain missing after a wide-scale global search. Also, answers are critical for the families of the 227 passengers and 12 crew on board.
The current search is expected to be fully completed by mid-2016, and according to the ATSB, it will not be expanded any further if no evidence is found. Until then, four ships will continue to scan the remainder of the ocean search area. Hopefully, the efforts will be successful and will bring answers to those awaiting them.
Ashley is currently a senior in high school and plans on pursuing a career in aviation or journalism. Her favorite airplanes include the Boeing 777, 737MAX, and Airbus A350. She enjoys taking flights on various airlines to different airports and planespotting at her local airports.
Latest posts by Ashley Magoon (see all)