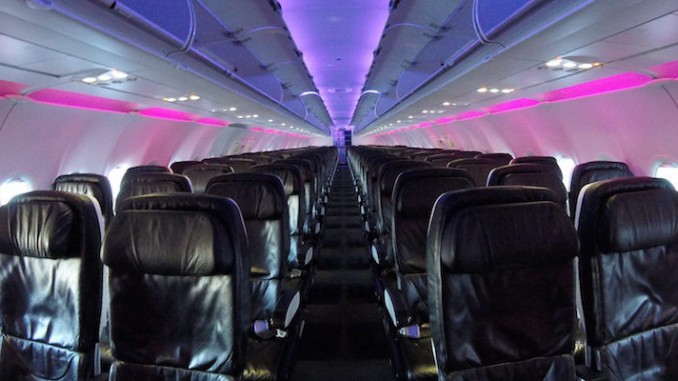 Virgin America, based in Burlingame, CA and known for its famous backer, Richard Branson, has begun communicating with various groups in regards to a potential sale.
Shares of the company rose over 10% today as a result of the speculated buyout, even as no decision has been made. Inside sources have hinted that it could be a full sale of the airline, partial sale, or ultimately no sale at all. The important piece is that the airline is exploring its options, and the rumor mill is flowing with ideas of possible partners.
Virgin America stated in an email that "as a public company, we have a policy of not commenting on any market or media speculation concerning mergers or acquisitions."
Known for its West Coast operations, Virgin America had its initial public offering less than two years ago. The airline began seeing profit for the first time in 2013 and has since continued its growth to other cities across the United States including Chicago, Dallas, and more. The carrier offers a unique experience compared to that of other domestic airlines, offering mood-lighting, in-flight entertainment and leather first class seats. Many in the industry have described Virgin America as a "niche airline" that has slowly found its way into more destinations.
At the top of the list for possible offers is JetBlue, which offers a similar fleet type and overlapping route structures that could combine an East Coast focus at JetBlue with a West Coast focus at Virgin America. Many of the large legacy airlines, such as American and United, are being kept off the table for most analysts as they are being described as being too large for the Department of Justice to approve an additional merger. However, it is still possible that a venture capital group could purchase part of the airline as a means to grow it faster and increase the bottom-line.
Representatives from JetBlue have declined to comment, but time will tell when and if Virgin America begins the process of being sold.

Joe joined AirlineGeeks in 2014, and in his current role as Editor-in-Chief manages a growing team of writers both in North America and Europe. He enjoys spending the bulk of his time researching, learning and analyzing the latest trends in the airline industry, all while mentoring new members of the AirlineGeeks team who seek to do the same. Areas of research include revenue management, codeshare and alliance partnerships and airline financial results.

Latest posts by Joe Pesek (see all)