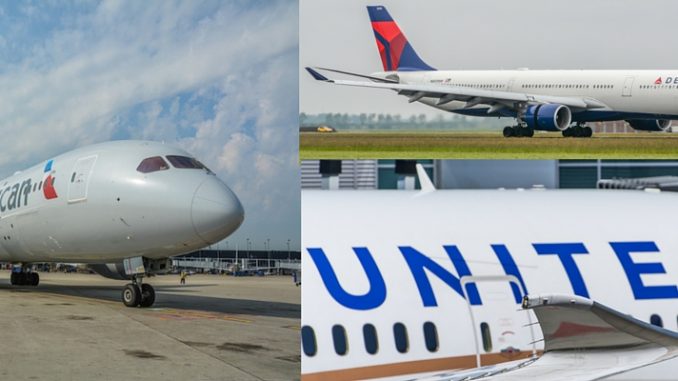 In a growing effort to increase service to the Japanese airport, United, American, and Delta announced today that they applied to the Department of Transportation (DOT) to serve Tokyo-Haneda.
The announcements comes after the DOT and Japanese government announced the end to restrictions at the airport, which will allow for five daytime flights from US carriers. United began service to Haneda from its hub in San Francisco in 2014, whereas American has recently announced plans to take over Delta's former route to the airport. Many airlines have had difficulty selling tickets to Tokyo-Haneda due to the daytime flight restrictions, resulting in most traffic being concentrated at Haneda by Japanese carriers, leaving the airlines from the United States to serve the further away Tokyo-Narita.
United has asked to operate a route from San Francisco to Tokyo-Haneda, as well as nonstop service from its hub in Newark. American has asked to operate flights from its home at Dallas-Fort Worth, while Delta has asked to serve the airport from Los Angeles, Minneapolis, and Atlanta.
"United's proposed service will connect two centers of global commerce and culture with Tokyo's close-in airport and offer customers more options for travel between the U.S. and Japan," said Vice President of Regulatory and Policy at United. "More than 150,000 customers from large and small communities across the U.S. have benefitted from United's San Francisco-Haneda service. We hope the DOT reaffirms its earlier decision that this route provides numerous consumer and competitive benefits."
United currently serves four cities in Asia from its Newark hub: Beijing, Hong Kong, Shanghai, and Tokyo—Narita. The airline serves more destinations in Asia from the New York/Newark area than any other carrier. American, on the other hand, has been taking big leaps in trying to expand its presence in Asia, adding more flights to Hong Kong and major cities in China particularly from its Los Angeles hub.
"What the new DFW service does is it will allow us to offer passengers convenient flight times and operate the flight times that people want to fly to Japan," said Howard Kass, American's Vice President of Regulatory Affairs.
Delta is in a unique position in that it has significantly benefited from the restrictions at Haneda in the past, as it has built out a good-sized operation at Tokyo-Narita. However, sensing increasing competition from Haneda as it is closer to the Tokyo city center, time will tell whether or not Delta slowly transitions its focus away from Narita to Haneda.
AirlineGeeks.com began in February, 2013 as a one-man (er… teenager, rather) show. Since then, we've grown to have 20 active team members, and yes, we're still growing. Some of us are looking to work in the aviation industry as professionals when we grow older. Some of us are still trying to decide what we want to do. That's okay though, because we're all here for the same reason: we love the airlines. We're the youngest team of airline industry journalists out there.
Latest posts by AirlineGeeks.com Staff (see all)