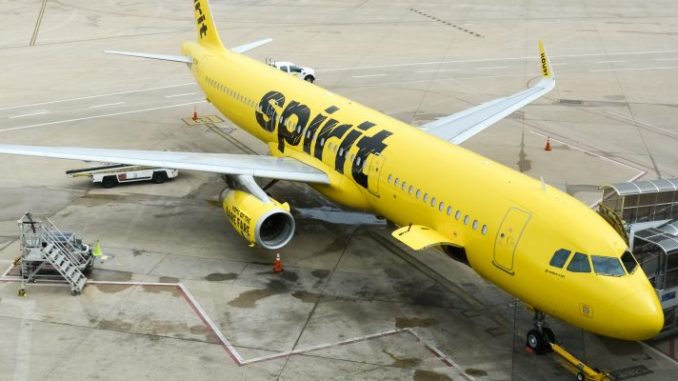 Flight Info
| | |
| --- | --- |
| Flight Number | NKS331 |
| Date | March 16, 2016 |
| Departure | New York – LaGuardia (LGA) |
| Scheduled Departure Time | 9:59 PM EDT |
| Actual Departure Time | 11:28 PM EDT |
| Arrival | Chicago O'Hare (ORD) |
| Scheduled Arrival Time | 10:41 PM CDT |
| Actual Arrival Time | 12:19 AM CDT |
| Aircraft | Airbus A320 (N618NK) |
| Seat | 22A |
| Fare | $53.09 + $35 bag + $10 seat + $1 greenup = $99.09 total |
Pre-Departure
This flight was my first experience on an ultra-low-cost carrier, so bearing in mind the rumors I had heard, I made sure to do some extra research to be prepared for the experience. Spirit has consistently topped the DOT's list for customer complaints, yet also remains near the top of U.S. airline profitability. Spirit's new CEO, Robert Fornaro, has indicated that he wants to improve customer relations, but these changes could take a while to be implemented. In the meantime, Spirit rests in a temporary limbo between former CEO Ben Baldanza's unapologetic leadership style and Fornaro's more reserved tone.
I knew I would be bringing a larger carry-on, and Spirit recommended I purchase the bag when I booked to avoid additional fees. As I discovered later, Spirit's fees increase incrementally as the travel date approaches, increasing first from about $26 at booking to $31 online before check-in, all the way to $100 if you wait until the gate. To avoid an extra fee, I purchased a carry-on bag when I booked. Spirit also charges for boarding passes printed at a kiosk or by an agent, so I printed my boarding pass for free at home as soon as I checked in. I also purchased a seat assignment to guarantee a window seat, and added $1 for Spirit's "Greenup" option, used to reduce waste and emissions.
Gate and Boarding
Boarding pass in hand, arriving at the airport was relatively easy. I arrived and was through security at LaGuardia in less than 15 minutes. Upon arriving at the gate, boasting an analogue display board rather than an electronic screen, I discovered our flight was delayed by an hour due to thunderstorms. Spirit had thankfully already emailed me to update me on my flight delay.
Gate agents made few announcements or updates, simply saying the flight was delayed. As soon as the flight arrived, Spirit frequent flyers began lining up, Zone 1 folks closer to the windows and Zone 2 closer to the chairs. The gate agent made an announcement when she noticed this to make sure everyone was arranged appropriately. No announcement was made when boarding began, but boarding was extremely swift. As soon as one zone was done, the sign was flipped as the next zone in the adjacent lane boarded and the next zone lined up, and we were all on board in no time.
Onboard
The airplane was extremely clean, except for a few pieces of gum in the air sickness bag. There were a few ads, but they weren't nearly as bright or intrusive as I thought they'd be. The seats were noticeably thin and simple, but they were comfortable. Spirt does offer "Big Front Seats," larger seats and extended legroom, and these can be purchased in advance or onboard for anywhere from $12 to $199.  I had nothing under the seat in front of me and had plenty of legroom as a result. It was a relatively full flight, and I didn't notice many free seats.
The flight attendants were mostly pleasant, making a few jokes as we went. They turned the lights off soon after takeoff and made a few rounds for those who wanted to purchase something. On Spirit, even water is $3.
The flight was relatively uneventful. The pilots provided constant updates as we flew, explaining why we were delayed when we boarded and our expected arrival time when we were in the air. Again, the seats were relatively comfortable even with no recline. On such a short flight, the narrowness and restricted leg space wasn't that noticeable.
We landed and taxied to our gate quickly. Deboarding was swift and, as we arrived at about 12:30 AM, the airport was mostly empty. After arrival, Spirit sent me an email asking for a review, which I completed.
Review
Overall, I was extremely pleased with my experience on Spirit. Booking with Spirit was one of the easiest airline bookings I've ever made, and the airline was proactive in providing me with information about the experience, flight info, and even how to save a few dollars on the trip. Spirit understands its core customer needs and caters well to the budget traveler. Even though the seats are small and the amenities are nonexistent, the low fare and short flight made it well worth it. Printing my boarding pass was a little inconvenient and I would've appreciated a mobile boarding pass, but that wasn't a major detriment to my trip. Even the long delay didn't affect my enjoyment too much, and I ended up getting a nice nap on the flight. If the fares remain low, I, like many of Spirit's customers, won't hesitate to opt for this ultra-low-cost carrier again. I look forward to changes under Spirit's new leadership and can't wait to see what the future has in store for the still-growing airline.
AirlineGeeks.com began in February, 2013 as a one-man (er… teenager, rather) show. Since then, we've grown to have 20 active team members, and yes, we're still growing. Some of us are looking to work in the aviation industry as professionals when we grow older. Some of us are still trying to decide what we want to do. That's okay though, because we're all here for the same reason: we love the airlines. We're the youngest team of airline industry journalists out there.
Latest posts by AirlineGeeks.com Staff (see all)